Graham Reid | | <1 min read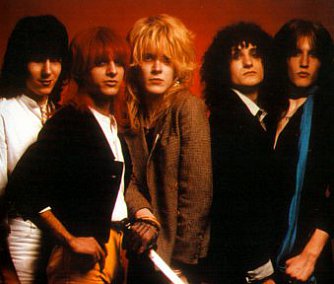 Way back before singer David Sylvian came over all Eno, European and arty. And before bassist Mick Karn (who died in January 2011), drummer Steve Jansen and keyboard player Richard Barbieri (now in prog-rockewr Porcupine Tree) lit of out for territory which was sometimes on the border of jazz, they were in the louche, sometimes funky and new wave Japan where they dressed like the New York Dolls and sounded like the Stones fronted by Bowie in drag.
They were more interesting than many gave them credit and their album Adolescent Sex bears listening to even today. They knew what they were doing with synths and stuttering guitars, and Sylvian sang like he was recovering from a night with supermodels and sleaziness.
At the end of the first side of the album they dropped in this disheveled cover of this Jule Styne/Bob Merrill classic from the stage play Funny Girl which had been a hit for Barbra Streisand.
It is something of a camp standard -- Liza Minnelli and her mum Judy Garland also sang it -- but no one has quite delivered like this.
So pour a martini, lay out some lines, crank the volume . . .
For more on-offs or songs with an interesting back-story see From the Vaults.