Graham Reid | | 1 min read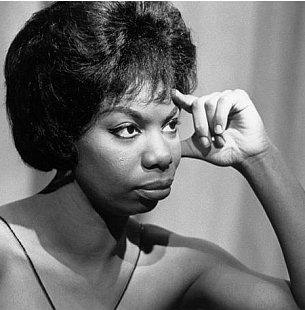 At the very end of the Keith Richards' doco project about Chuck Berry, Hail! Hail! Rock and Roll, we see Chuck sitting quietly with his electric guitar (pianist Johnnie Johnson mostly off camera, see clip below) singing the beautifully wistful Cottage For Sale.
It was a reminder of two things: That despite all the evidence which preceeded it in the film (and what you may know about his occasionally shameful private practices) that Berry was a man with a heart in there somewhere; and that he grew up hearing such crafted and classic American lyrics which perhaps imbued in him the notion that words actually count.
He was one of the most poetic writers of the rock'n'roll era.
The nostalgic Cottage For Sale dates back to the late Twenties -- lyrics by Larry Coley, music by Willard Robison who also wrote Old Folks -- and the song had been covered by Billy Eckstine, Frank Sinatra, Mel Torme and many, many others.
Nina Simone picked it up in 1957 and delivered this heartfelt version.
And why should it be here right now?
Because there is an inescapable similarity in sentiment to House for Sale on Nick Lowe's new album The Old Magic.
Love has gone from the cottage/house, the rooms are threadbare and the rose garden has gone to weeds and is overgrown . . .
Lowe's song however includes the line "I'm leaving like I'm getting out of jail" . . . so perhaps the love had been a long time in withering?
For more on-offs or songs with an interesting back-story see From the Vaults.