Graham Reid | | <1 min read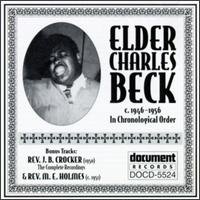 Although some say the itinerant preacher Elder Charles Beck was a direct influence on the very young pre-fame Elvis Presley -- citing Beck's Jesus I Love You as a style which Presley would later imitate in his ballads -- the man was more likely to be calling down the spirit against rock'n'roll . . . as he does here.
Beck, who played piano and trumpet, had a long recording career starting in 1930 and he played revivalist tent shows across the South.
But this recording -- where he works himself up into a creditable rock'n'roll lather -- was one of his last. He subsequently recorded an album for Folkways (a whole service) and thereafter took his mission and zeal to various parts of Africa where he died (in Ghana, possible in '72) when he was in his Seventies.
As with the Reverend JM Gates and the preacher sampled by Steve Reich on It's Gonna Rain, there is mighty fire and brimstone conjured up.
For more on-offs or songs with an interesting back-story see From the Vaults.