Graham Reid | | 1 min read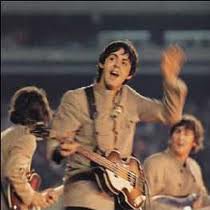 When the Beatles played that historic concert at Shea Stadium, New York in August '65 before 55,000 screamers -- the biggest audience for a rock concert at that time -- John Lennon clearly enjoyed himself, no more so than during McCartney's rocker I'm Down where he played keyboards with his elbow and set Harrison and McCartney into fits of laughter.
I'm Down -- another classic Beatles b-side, the flip of Help -- is an exceptional McCartney song modelled on Little Richard's Long Tall Sally but delivered with such unbridled enthusiasm he can't even get all the words out.
As a number of writers have noted, despite being "down" about his lover not giving in to his affections he is far from sounding depressed. Frustrated yes, but also boiling over with howling self-assertion.
It is also a short (2.38) and punchy rock'n'roll classic which the Beatles, then McCartney in his solo career, played often.
And -- hard to believe -- if you look at the Abbey Road recording dates, McCartney belted this out in the afternoon of June 14 '65 (they did seven takes) after recording his country-rock I've Just Seen a Face (the rehearsal for the Help! album is here) then had a cup of tea and recorded another, but very different classic, Yesterday.
Quite a session -- and the Help/I'm Down single was in shops fewer than 10 days later, and a month later, after finishing up the Help! album, they were touring the US playing the Hollywood Bowl and Shea Stadium.
Hard to believe . . .
For more on-offs or songs with an interesting back-story see From the Vaults