Graham Reid | | 1 min read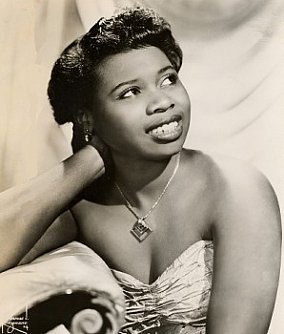 Although Big Mama Thornton was the first out of the block with Leiber and Stoller's Hound Dog -- subsequently a hit for Elvis Presley -- Thornton wasn't the only one to hear its bluesy potential.
Esther Phillips -- later to find fame in the disco era with her cover of Dinah Washington's What a Diff'rence A Day Makes (see here) -- almost got it to the charts before her.
Little Esther as she as billed -- born Esther Mae Jones in Texas -- was just 17 when she recorded this raw and incisive version in early 1953 with Johnny Otis' band, many of the same players who had been on Thornton's version recorded about six months previous.
Thornton's version wasn't released immediately but took off in early '53, not long after Phillips went in to cover it. Thornton's version sounds slow, earthy and menacingly mature in its quiet fury, whereas Phillips brings a snarl, youthful anger and a sense of vitriol -- unfortunately undercut by the hound dog howls of the band.
Phillips had some minor hits in the Fifties but heroin addiction claimed her until the early Sixties when she was discovered by, of all people, Kenny Rogers who got a record deal. She slowly climbed back until that cracking hit What a Diff'rence although her habit always lurked in the background.
She died in '84 at the age of 48, her body debilitated by drug use.
Phillips version of Hound Dog is found on the excellent compilation I Smell A Rat, a collection of early black rock'n'roll.
Interesting to speculate how Elvis' version of the song might have turned out if he'd only heard Little Esther Phillips and not Big Mama Thornton's version.
For more oddities, one-offs or songs with an interesting backstory use the RSS feed for daily updates, and check the massive back-catalogue at From the Vaults.