Graham Reid | | <1 min read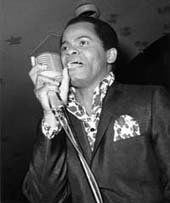 You could never say Joe Tex didn't live an interesting life, if being shot at by James Brown (who said Tex was copying his moves) constitutes something "interesting".
Things weren't always quite so high profile and dangerous, none of his singles in his first decade caught the public's imagination but in the mid Sixties (after Brown had covered his Baby You're Right) he started to score radio play with singles like Skinny Legs And All and Ain't Gonna Bump No More With No Big Fat Woman (in '77).
His biggest hit however was this one, I Gotcha which topped the US r'n'b charts and went to number two on the main chart.
At times you can hear why Brown might have reached for his gun, Tex's yelps and screams (admittedly fairly standard in funked up soul) are very much in the manner of the Godfather of Soul.
Curiously after its success Tex retired from music -- although he made a return three years later and nailed another one away with the disco-friendly Big Fat Woman.
Then he retired properly to his ranch and devoted himself to the Muslim faith he had adopted in the mid Sixties. Tex died five years later in '82. He was 49.
For more oddities, one-offs or songs with an interesting backstory use the RSS feed for daily updates, and check the massive back-catalogue at From the Vaults.