Graham Reid | | 1 min read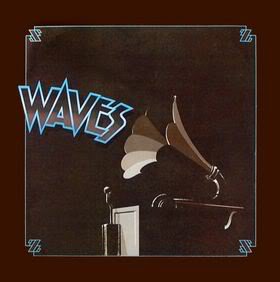 Of the many New Zealand albums long overdue for a reissue, the sole album by the acoustic quartet Waves is among the most worthy.
The band of Michael Matthew, Kevin Wildman, Graeme Gash and David Marshall were straight out of the post-Crosby Stills and Nash school of close harmony singing, acoustic guitars and some pointed electric playing when the moment demanded it.
Their debut album -- produced by Peter Dawkins and engineered by Phil Yule -- was recorded in four days at Stebbing Studios in Auckland with a little help from the likes of Mike Chunn on bass (of Split Enz/Citizen Band fame), keyboard player Mike Harvey, Murray Grindlay of the Underdogs etc, here on harmonica), Mike Caen (of Streetalk) and others.
It appeared on the short-lived but worthy Direction Records out of Auckland.
Given the period -- Hello Sailor, Dragon etc -- the quiet and considered music of Waves seemed at odds with the prevailing wind, but perhaps that is why they are so fondly remembered by those who quite liked to sit and nod at home rather than tough it out in boozy bars.
Their musicianship was impeccable and songs like Gash's Wornout Rocker and Dolphin Song, and Wildman's Arrow, etched themselves into the memory of many.
Apparently they recorded a second album which was never released because Direction floundered, but Gash went on to release at least one solo album. I think.
My recollection is there was a one-off re-formation at some time in the Nineties (my flawed memory says a gig at the Mercury Theatre?) but that was it.
In the absence of a reissue, here then is a track lifted off scratchy old vinyl from one of the great lost New Zealand albums. And a clip of their memorable Dolphin Song.

Someone must have the masters . . . and the will for a reissue before the memory fades further and that Alzheimer thing claims the rest.
For more oddities, one-offs or songs with an interesting backstory use the RSS feed for daily updates, and check the massive back-catalogue at From the Vaults.