Graham Reid | | <1 min read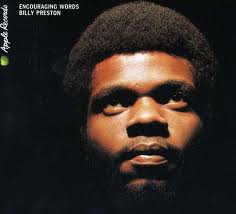 It says much about George Harrison's generous spirit that he gave Billy Preston the chance to release versions of his songs My Sweet Lord and All Things Must Pass before he did so himself.
Those two songs -- along with a Preston-Harrison co-write Sing One for the Lord and Preston's take on Lennon-McCartney's I Got Feeling -- appeared on Preston's second album for the Beatles' Apple label, Encouraging Words.
His debut for Apple, That's The Way God Planned It was the more successful commercially but Encouraging Words is more consistent . . . and you wonder why the terrific You've Been Acting Strange wasn't released as a single.
Perhaps they figured a song written by a Beatle had more chance of getting attention. (Although the Hollies' most conspicuous chart failure had been with their cover of Harrison's If I Needed Someone from Rubber Soul which sounded perfect for them in '65, but broke their run of top 10 hits when it only crept to 20 on the UK charts and mis-fired everywhere else.)
So Preston's career faltered a little with this single and the album, and then he was off Apple.
But he and Harrison remained loyal friends, and Preston's spot at the Harrison tribute concert was a highpoint of that quite remarkable gathering.
For more oddities, one-offs or songs with an interesting backstory check the massive back-catalogue at From the Vaults.