Graham Reid | | <1 min read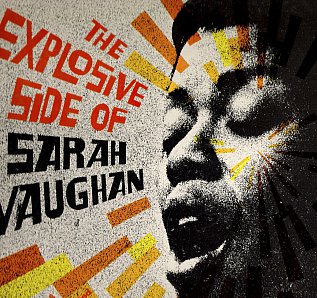 Some very serious jazz people don't take British pianist/singer Jamie Cullum very seriously. They point out he also sings pop, his repertoire includes songs by the White Stripes and hip-hop artists and . . .
All the usual accusations.
Like Herbie Hancock doesn't draw from contemporary music? And what of Coltrane using My Favourite Things as a vehicle?
Cullum gets a mention here because he did the theme music to a British television comedy series After You've Gone and you could hardly accuse him of living too much in the 21st century. The song was written in 1918.
There has hardly been a jazz artist who hasn't covered it, from Louis Armstrong to Paul Whiteman through an alphabet of great names like Sidney Bechet and Coleman Hawkins to Frank Sinatra, Bessie Smith and Nina Simone to . . . .
You name 'em.
And Sassy Vaughan who here belts it out with Benny Carter's band.
One of the greatest and most flexible voices of the 20th century, Sarah Vaughan has been long overdue for a mention at Elsewhere.
Weird that it took thinking about Jamie Cullum to get her here.
For more oddities, one-offs or songs with an interesting backstory use the RSS feed for daily updates, and check the massive back-catalogue at From the Vaults.