Graham Reid | | <1 min read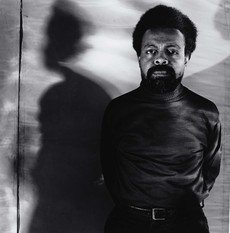 Recorded at Buffalo State University, Le Roi Jones -- aka Amiri Baraka -- wasn't taking any prisoners in this powerful reading where he was among the first to reclaim and redefine the "N" word and throw "motherfugga" into the public domain.
It was also -- like the earlier work by The Last Poets and Gil Scott Heron -- a call to arms, or at the very least a cry against complacency and plea for unity of purpose in the black communities.
Jones/Baraka was one of the most direct and articulate of black poets, writers and commentators, and his essays on jazz were among the few coming from inside the culture.
He moved through a Beat phase and into the furious and fiery politically-inspired period in the late Sixties/early Seventies (when street revolution seemed a genuine possibility) and then into an advocate for post-Marxism and Third World politics which skewered the colonial legacy.
One of the most important, relevant and interesting black poets and writers of the 20th century, he has somehow faded from the greater consciousness -- and at the time of this writing he is in his late 70s.
For more oddities, one-offs or songs with an interesting backstory use the RSS feed for daily updates, and check the massive back-catalogue at From the Vaults.