Graham Reid | | <1 min read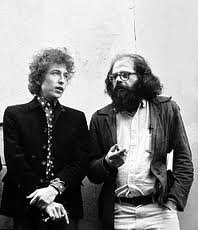 Given they had so much in common -- a love of words, counterculture cachet, Jewish upbringing and so on -- it is a surprise poet Allen Ginsberg and Bob Dylan didn't write and record together more often.
There was a session with poet Anne Waldman in 1968 (which had Arthur Russell on cello), others in '71 with a similar group (and a sitar player) and another in '81. Oddly enough it seems there was nothing recorded when Ginsberg joined Dylan's Rolling Thunder tour in '75-76 alongside that huge cast which included Roger McGuinn, Joan Baez, Kinky Friedman, people from the Desire sessions (including violinist Scarlet Rivera), Ramblin' Jack Elliot and others.
At least, nothing has appeared.
This ramshackle piece -- Dylan on guitar -- appeared on one of John Giorno's Dial-A-Poem poetry albums but wasn't included on the four CD Holy Soul Jelly Roll collection of Ginsberg's poems and songs (where a couple of other tracks with Dylan do).
It has charming surface noise which rather suits the mood and tone (I took this from an old cassette which had been recorded from the original album some time in the late Seventies).
It gets usefully bawdy.
There is more and better Ginsberg at Elsewhere starting here. And of course oceans of Dylan.
For more oddities, one-offs or songs with an interesting backstory use the RSS feed for daily updates, and check the massive back-catalogue at From the Vaults.