Graham Reid | | <1 min read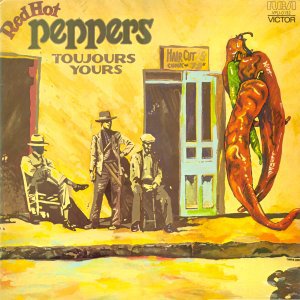 New Zealand's short-lived but impressive Red Hot Peppers in the Seventies revolved around multi-instrumentalist Robbie Laven (originally from Holland) and singer-guitarist Marion Arts.
Laven was quite a musical threat, he could apparently play about 50 instruments and on their debut album Toujours Yours he plays guitars, sitar, fiddle, lyre, qin, sax, dobro, banjo, mandolin, flute . . .
This track -- a world music-influenced neo-folk showcase and an extended treatment of a Strawbs song by Dave Cousins -- shows something of the breadth of their range, but unfortunately the album didn't do the business despite favourable reviews.
They broke up the following year and Laven and Arts headed to Australia where they subsequently reformed the band with their original guitarist, the late Mike Farrell (whose playing graced the bands Tom Thumb, Rough Justice and the Flyers, as well as appearing on Midge Marsden's excellent Burning Rain album).
Red Hot Peppers recorded a couple of albums in Australia which suffered the same fate of consumer indifference and so Laven and Arts lit out for Holland.
They have been back in New Zealand for some while and have recorded frequently (their latest band Bonjour Swing is reviewed here), but this one was too good to leave in the vaults.
For more oddities, one-offs or songs with an interesting backstory use the RSS feed for daily updates, and check the massive back-catalogue at From the Vaults.