Graham Reid | | <1 min read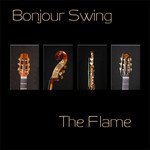 Those with a long memory may recall multi-instrumentalist Robbie Laven who impressed discerning ears back in the Seventies with the short-lived band Red Hot Peppers. Their Toujours Yours album (see here) is much sought after.
This band -- which includes Laven, his wife Marion Arts, also a Pepper back in the day, their son Oscar on saxes and trumpet, with bassist Milan Wilshier -- explore an easy, jazzy, French-flavoured swing style on a series of originals which nod to Django Reinhardt and a touch of Gypsy folk.
Recorded in Tauranga, it has a homely, cafe-style feel with deft touches of humour (the Woody Woodpecker reference in Two Birds) and excellent playing by all participants, notably Oscar whose clarinet sounds appropriately beamed in from the Thirties.
There are sprightly instrumentals, moody ballads (When Love is Gone), interesting tunings (Wasat Waltz, the quietly dramatic The Flame Once High), some songs in French and the odd misstep (the ecologically well intentioned but rather clumsy The Wild Places).
This is apparently the 10th album by Arts and Laven who seem to keep their bright light rather too far under the bushel.
Like the sound of this? Then check out this. Marion Arts has a website offers and overview of her long career and lists her extensive recording catalogue, it is here.