Graham Reid | | 1 min read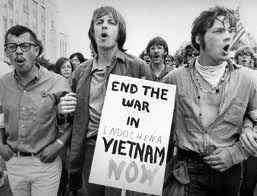 The war in Vietnam threw up hundreds of songs -- taking about every political position imaginable -- but this track is interesting as an early example of a musical montage.
Not a "song" as such but a medley of vocal samples (including one from American Vice President Spiro Agnew), sound effects and hooks from anti-war songs by Neil Young and the Plastic Ono Band, this piece was never destined to be a hit.
Coast were just unknown session musicians and the people behind it were drummer/producer Martin Brummer and Gene Busnar who went on to have low flying careers in and around the music industry.
This "song" is included in the remarkable box set; Next Stop is Vietnam; The War on Record 1961-2008. (Mentioned previously at From the Vaults here)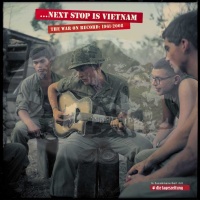 This massive, 13 CD set of songs, radio spots and recordings made in-country by soldiers brings together all the most well known songs about the war in Vietnam alongside many dozens of schmaltzy, obscure, seldom-heard and strange records which had the war/soldiers/patriotism/dissent as their theme.
With an accompanying book (not a booklet) of photos, potted history and notes on the songs and artists this is one magnificent album-sized monster of a history lesson pulled together by Bear Family Records out of Germany (here).
For more oddities, one-offs or songs with an interesting backstory use the RSS feed for daily updates, and check the massive back-catalogue at From the Vaults.