Graham Reid | | 2 min read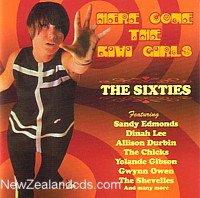 For those with a long memory, Wellington's Rochelle Vinsen is but a footnote in New Zealand pop history, the girl who gained some minor attention with My Boyfriend's Got a Beatle haircut in early '64 and . . .
Hmmm. That might be about it?
In fact, she also recorded with Christchurch's rocking Castaways and on this B-side displays some real teen-pop girl group-style chops.
Vinsen quit pop after little more than a year and some unsuccessful singles. She became a primary school teacher. She also became active and succesful in the world of children's music (here website is here) and here also tells of how she came to enter that hectic world of Sixties pop . . .
"The story of how I came to be a recording artist for HMV is most interesting. In the 5th form at Onslow College, I was invited to be the female vocalist in a band with some fellow pupils. We entered "Have A Shot" on TV and made it to the semi-finals. The following morning, I had taken the day off school and a man rang, saying he was from HMV and would like to visit that day to discuss the possibility of me recording for them.
"He arrived a few hours later and mentioned to my mother and I how he would arrange an audition in Auckland for me. Of course I was most excited but after several weeks of no word from him, I began to wonder.
"In Wellington, one day, wearing my school uniform after a school trip, I spied a notice on a building, which said, HMV Studios, so up the stairs I went. I told my story to the receptionist and Alec Mouat, the A&R man, happened to overhear my conversation as the offices were just partitioned.
"He came out, told me that no such person worked for them and that although it was not normal procedure, if I came in the following week, he would give me an audition there at the studios! The rest is history, the bogus talent scout brought me my lucky break after all!
"The next challenge was actually getting my first release Candy Kisses played on air, to this day, I don't think it ever has been! HMV went all out, sparing no expense on my record cover, I was the first NZ artist on their label to have their photo printed on the jacket cover!
"Unfortunately, the chief programmer at Broadcasting thought that the mighty backing of Laurie Lewis and the Blockbusters (they had a powerful sound with lots of saxophone) decided the backing was too loud and it was not to be aired."
"Well, all my school mates were beginning to think I was a fake, so in desperation and once again in my college uniform, I went knocking on Bas Tubert, the 2ZB breakfast announcer's door.
"He happened to live a few doors down from Onslow College and he kindly played the flipside, the following morning, and so all my friends believed me after all!!"
I Wanna Swim With Him -- a minor hit for the Daisies -- appears on an interesting compilation Here Come the Kiwi Girls which features the Chicks (with Rebel Kind and Hucklebuck), Dinah Lee, Sandy Edmonds, the Fair Sect and many others.
For more oddities, one-offs or songs with an interesting backstory check the massive back-catalogue at From the Vaults.