Graham Reid | | <1 min read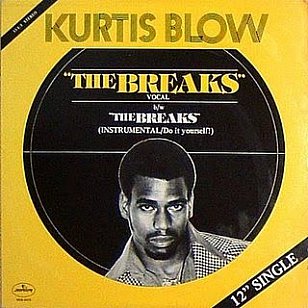 It seems a curious thing that in hip-hop -- which often brags about how much it respects its past -- the briefly famous Kurtis Blow should have disappeared from the landscape.
But The Breaks made Kurtis Blow -- born Kurt Walker -- one of the first rap superstars when he was the first of the genre to record for a major label (Mercury) and the 12" version of this sold a whopping half a million copies. No mean feat for a style which had yet to get traction at radio, or for the 12" format.
Okay, when listened to now it does seem locked into a more simple and innocent time (gangsta was some years off), but the breaks still sound terrific. And they are all originial, which meant Kurtis Blow wasn't just sampling but inventing.
Kurtis Blow got plenty of namechecks down the decades (Tupac to Bob Dylan were in his house) but after that generation of early fans made it to adulthood the next ones -- born into NWA, Public Enemy, Eminem and even nu-metal -- seem to have not known him. Or paid respect.
So here is the elemental Breaks to remind us where this music came from.
Sounds simple to our ears now, but back in the day . . .
A hit, actually.
For more oddities, one-offs or songs with an interesting backstory use the RSS feed for daily updates, and check the massive back-catalogue at From the Vaults.