Graham Reid | | 1 min read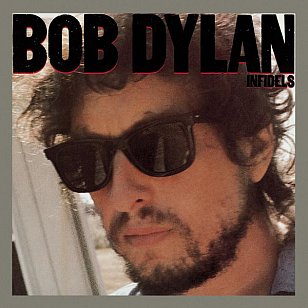 As I write, the fragile "peace" between Israel and the Palestinians on the West Bank looks to be holding. At least, the missile attacks from both sides have stopped and some people are talking.
Others are doubtless re-arming themselves while rebuilding their lives and homes.
Without getting into the rights and wrongs of aggression and the usual "you started it" standoff, it was interesting that Bob Dylan would weigh in with a pro-Israel/Zionist stance in '83 on the album Infidels -- which included Jokerman and the political rant in favour of economic protectionism on Union Sundown -- especially since on the three preceding albums he had openly embraced Christianty.
Dylan, it seemed, was back in the fold of Judaism and rumour had it he had taken up with a Hasidic group. Fueling the speculation were photos of him wearing a yarmulke and at the Wailing Wall.
It seemed however that he was still attending the Vineyard Fellowship in California and believing Jesus Christ was the Messiah.
Religion aside, Neighborhood Bully nails its belief in the right of the state of Israel to exist pretty clearly.
The idea of Israel being pro-active in defending itself wasn't a popular political stance at the time (except in the obvious circles) and I suspect would be less so today. Tragically this song is almost 30 years old, and times haven't changed.
In linking of the history of the Jews ("been driven out of every land, he's wandered the earth an exiled man . . . always on trial for just being born") and the political status of Israel ("he got no allies to really speak of, what he gets he must pay for, he don't get it out of love") Dylan was painting in broad strokes and did seem a little muddled.
But muddled was pretty much Dylan in the Eighties.
For more one-offs, oddities or songs with an interesting backstory use the RSS feed to get your daily delivery From the Vaults