Graham Reid | | 1 min read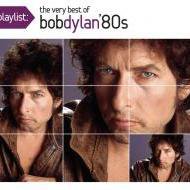 As it was happening, Bob Dylan's Eighties seemed somewhat of a wasteland only sparsely populated by songs which had any great resonance. And many which did -- Brownsville Girl co-written with playwright Sam Shepard for example, on the largely awful Knocked Out Loaded in '86 -- weren't sympathetically produced.
Certainly songs like Jokerman stood out (although it was hard to fathom what he was on about) but when confronted with the cliche-ridden Sweetheart Like You on the same Infidels album, you had to conclude consistency was not going to be Dylan's long suit as the decade rolled on.
Of course there had to be great songs scatted about in a 10 year period -- genius rarely deserts someone who had been as consistent as Dylan in the previous 15 years, even during the Christian period which opened his Eighties.
It is the stuff of boring bar conversations to compile an album of Dylan's best of the Eighties, but here is one argument starter. And first of all some might say it cheats.
Dylan's retrospective Bootleg Series Vol 1 - 3 of '91 opened the box on some great recordings which went unreleased in this decade, and maybe it would have been tougher to just choose from the songs released at the time. Otherwise you could stack a single disc with many from the Bootleg box.
Here we get two from that set (Foot of Pride and, obviously, the wonderful Blind Willie McTell).
So what else is here to bicker about: Silvio (which Dylan has played in concert for years but always seems a lesser song), Jokerman, the aching and gospel-influenced Pressing On (from Saved), the terrific Everything is Broken (off Oh Mercy, an album which could hav been plundered for more than just this sole entry).
Here too are Series of Dreams and Most of the Time (from Tell Tale Signs, cheating again?), the excellent Groom's Still Waiting at the Altar and Every Grain of Sand (from Shot of Love, the former a b-side and added to later versions of the original album), Sweetheart Like You, Brownsville Girl, Dignity (from the soundtrack to Touched by an Angel, another he favours) and Dark Eyes from Empire Burlesque.
So there you have it.
The arguments start: Band of the Hand which has never been on CD? Tight Connection to My Heart (or it's Bootleg series version Someone Gotta Hold of My Heart)? Lord Protect My Child from the Bootleg box? Ring Them Bells? Anything from the Wilburys . . .
Mine's a merlot, thanks. I'll get the next round.
Like the idea of this? Then you need to start your studies here.