Graham Reid | | <1 min read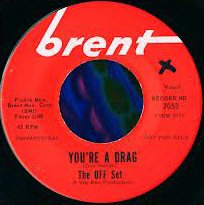 When it came to forming groups in the Sixties, Don Sallah was a serial offender.
Mostly studio-based, Sallah started the decade in Little Moose and the Hunters (he was the wee moose), recorded an all-instrumental album as The Pioneers and then formed the Emeralds, a vocal harmony group.
With Hank Cardello from the Emeralds he then formed the Off-Set who hooked into the folk-rock thing for a couple of singles before Sallah and Cardello formed The Boys From New York City who veered between garageband rock and Dylanesque material, and were very popular live.
Then somehow TBFNYC became the more trippy Energy Package . . and it was stlll only 1967.
Some time later TBFNYC became The Boys from NYC then Sallah was Dusty Greyrock for a single.
We thank Colin Mason for his site Opulent Conceptions for filling us. He has more detail about Sallah there.
This slice of Grass Roots-meets-Dylan sound of the Off-Set appeared on the excellent All Kinds of Highs double CD of also-ran bands from the Sixties (see here).
If this hadn't been so rooted in other people's styles this snarky song might have just had some traction. As it was, it failed to chart . . . but no matter because songwriter Don Sallah was moving on anyway.
As he always had, and would continue to do so the rest of the decade.
At least half a dozen groups/names in as many years. Not bad going.
For more one-offs, oddities or songs with an interesting backstory see From the Vaults.