Graham Reid | | 1 min read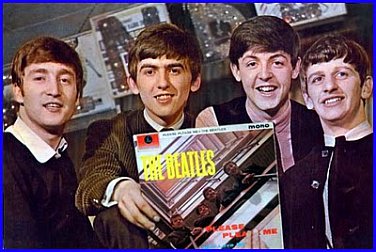 Half a century ago the Beatles' debut album Please Please Me was released.
Legend has it that it took only 16 hours to record, the final song being Twist and Shout, for which Lennon -- suffering from a cold and drinking sweet tea -- roared through in a searing performance.
The album contained their earlier minor hit Love Me Do and chart topper Please Please Me alongside Arthur Alexander's Anna, Ringo singing Boys, the Bacharach-David number Baby It's You and the MOR ballad A Taste of Honey.
Most notably though was the fact that this new and young band wrote eight of the 14 songs themselves.
This was unheard of in British pop, and even very few American artists would write and record their own material. And certainly not that much of it.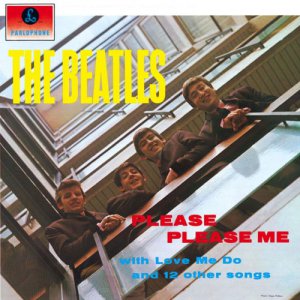 The album cover was as quickly knocked off as the musicc itself.
The Beatles peered down the stairwell at EMI and Angus McBean banged off a few shots.
As with all the Beatles subsequent album covers it become much copied, parodied and referred to.
Even the Beatles themselves revisited it in the closing overs of their career (see below).
To acknowldge that remarkbale debut, here is the oopening track.
And rather than post some mono or stereo remaster, this is taken from my original copy which I still have with all that wonderful surface noise.
And what a start to a career.
Just the energy on McCartney's count-in "one-two-three-fawh" seems to signal the excitement to follow.
.
.