Graham Reid | | <1 min read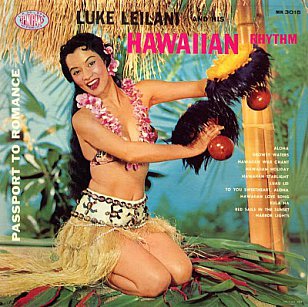 Although there is no shortage of albums by Luke Leilani (and his various groups), getting solid information about him is more difficult.
He doesn't rate a mention in the thick Hawaiian Music and Musicians collection edited by George S. Kanahele which makes me think Luke might have been as about authentic a Hawaiian as the Waikikis (from Brussels, see here).
I am happy to be proven wrong.
However when you buy an album of Hawaiian music you could rightly expect . . . hmm, Hawaiian music?
But on this highly unusual piece we might be getting down with some rockabilly before heading into the Mississippi Delta for some of it.
It's a real odd piece -- like nothing else on the album -- and just makes you want to hear more like this from Luke, whoever he might be.
.
For more oddities, one-offs or songs with an interesting backstory check the massive back-catalogue at From the Vaults.