Graham Reid | | 1 min read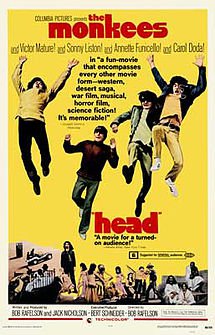 Just as Bob Dylan tried to demolish the myths which had built up around him with his Self Portrait album in 1970, so too the Monkees tried -- with even greater success than Dylan -- to shake off the pop image they had when they released their movie Head in '68.
Helmed by Bob Rafelson (who co-produced it with Jack Nicholson), Head was a surreal, fragmented, Pythonesque series of skits, Vietnam war footage, solarised psychedelic sequences and frippery which opens with them mocking their image as the loveable mop-top pop band in a song written by Nicholson . . . and went on to include appearances by Frank Zappa, boxer Sonny Liston, and in one sequence Nicholson and Dennis Hopper walk through looking like they have ambled in from the Easy Rider shoot.
Any 14-year old looking for the cute Monkees would have been bewildered within 10 minutes and probably have left the cinema about 10 minutes later. And there were no pop songs on the soundtrack either.
Interestingly the Monkee who came to the fore as a songwriter was Peter Tork who'd made few contributions to their previous album Birds and Bees, but who here had a couple of fairly tripped out pieces including Long Title: Do I Have to Do This All Over Again . . . and this stranglely appealing piece.
Tork said it was about the Tao and he'd written the chords as far back as his college days.
Mickey Dolenz takes the vocal and Tork plays guitar and snare drum. The other players were drummer Dewey Martin and bongo player Michael Glass. Buddy Miles was also listed as an additional player.
But it's the song's vague Middle Eastern/Indian sound which sets it apart from just about anything else the Monkees did.
An odd one from an even odder film.
For more oddities, one-offs or songs with an interesting backstory use the RSS feed for daily updates, and check the massive back-catalogue at From the Vaults.