Graham Reid | | 4 min read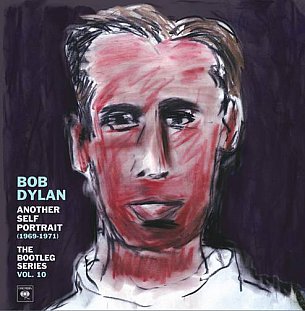 Among the more strange interpretations or readings of Bob Dylan songs -- and you aren't short of strangeness in this field -- is what many people have believed about his song Went to See The Gypsy which appeared on his New Morning album in 1970.
Pivotal lines about meeting a mysterious man in a big hotel, and a reference to Las Vegas, were enough to persuade many that the song had been prompted by Dylan meeting Elvis and writing this coded song aout that encounter.
It's an interesting idea but falls at the first hurdle: Dylan never met Elvis.
Then some deflected the discussion to it being about Jimi Hendrix (oh, his Band of Gypsys, right?) But when it comes to Jimi, people will believe anything, as this story about his time in Morocco attests. Oh, and "Paul is dead" too.
That people discussed this minor Dylan work so much at the time is additional proof that when it came to Bob Dylan -- then and now -- there are no end of threads to be gathered, garbage cans to be rummaged through and a thesaurus or Biblical text to be combed for clues.
Similarly Little Sadie/In Search of Little Sadie on his critically savaged double album Self Portrait (which was much enjoyed by ordinary civilians who bought it in the millions) where the name of the character changes within a few lines. What could that . . . mean? Who was the killer and why did he shoot Sadie down?
Many people could not figure what the Self Portrait album in its entirety meant at all. A thrown-together collection of traditonal songs reworked, some covers, a few originals, instrumental stuff, MOR ballads like Let It Be Me . . .
What did it all mean?
It meant Dylan didn't want the robes he had been offered and this was an album to assist the slavish following to let go of him. People didn't . . . and now nor has he.
The impressive double disc Another Self Portrait in the on-going Bootleg Series addresses these years of Self Portrait and New Morning, and songs like Went to See the Gypsy (which now appears in two versions) and Little Sadie/In Search of Little Sadie (the two versions from the original Self Portrait but without overdubs).
But what this Portrait edition does is strip away the dreck and most of the MOR stuff from the original double album, offer less embellished and more intimate takes of some of the more affecting Self Portrait songs, and then stack in previously unreleased material with the likes of the Band and George Harrison.
It is very much the self portrait of an artist going back to source material to find elelmental truths, stories and lyrics.
Dylan has always been more backward-looking than forward: he tells of how the discovery of Robert Johnson, Guthrie and the Harry Smith collections became his influences and source material in his earliest years; he went back to folk and blues on the albums Good As I Been To You and World Gone Wrong in the early Nineties after those shapeless Eighties; and his recent albums have conjured more of gthe mythic West of the 1800s or ballads from the Thirties than much in the contemporary world.
And in this period -- which also followed his retreat into seclusion and old music with the Band -- finds him on traditional songs (the sensitive Pretty Saro and Spanish is a Loving Tongue, Railroad Bill), originals which sound like 19th century songs (Only a Hobo with Happy Traum on banjo, Minstrel Boy, Country Pie), timeless country music (the sentimental These Hands) and a few contemporary songs which fit right in (Tom Paxton's Annie's Going to Sing Her Song, Eric Anderson's Thirsty Boots).
Mostly in these versions (as opposed to any which appeared on Self Portrait and New Morning) inhabits these lyrics like they are old friends, or mysteries to be unraveled which can only come by singing them.
Familiar Dylan songs here come off fresh: the unrehearsed Time Passes Slowly with Harrison on guitar and la-la-la vocals;, a more weary I Threw It All Away (from Nashville Skyline); that lovely and slightly ambiguous All the Tired Horse (without overdubs) because is it "riding" or "writing"; a gentle If Not For You with mournful violin; Sign on the Door now with orchestration . . .
And there is very different but lesser version of his spoken word If Dogs Run Free. The horn-enhanced version of New Morning will be down to taste.
Interesting too just how many voices Dylan has at this time: the familiar nasal whine on Wallflower; that more mellow and deep country style; an ancient-of-days tone brought to Days of '49 and Copper Kettle (again without overdubs); and he could have fun too as on the poppy Working on a Guru with Harrison who nails in a couple of effortless post-Chet Atkins/Carl Perkins parts after which they dissolve into laughter.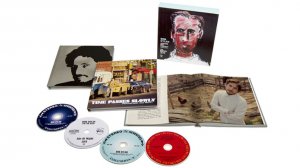 Another Self Portrait isn't the album we should have heard at the time because Dylan had another purpose in mind with Self Portrait.
But this is an album which can take you back to a better 1970 and, over the course of these songs, to times long before that.
Dylan's Bootleg Series has frequently offered new insights and even revelations.
This one -- Volume 10 -- is up there with the best and, by its understatement and emotional directness, could prove to be the most popular.
Dylan's Another Self Portrait also comes as a Deluxe Edition four CD set which includes the two new versions, the original Self Portrait remastered and the full concert of Dylan and the Band live at the Isle of Wight in 1969. The box also includes a hardback book of photos of Dylan during these years (pictured above). There are only 50 copies available in New Zealand through JB Hi-Fi stores, post free anywhere in New Zealand (see details here)
For an article on the orignal Self Portrait in the context of its time go here.
There is more on the Bootleg Series here and here andhere. And plenty more about all stages of Dylan's career starting here.