Graham Reid | | <1 min read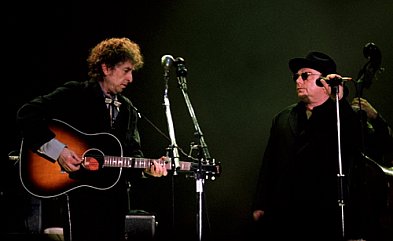 Previously Elsewhere had lifted an obscure Dylan song (John Brown) from this concert in Birmingham, but of course this -- with Morrison -- was the popular showstopper.
From the way the audience responds we might guess that just after Dylan starts the song, Morrison comes on stage.
It's also a pretty good and enjoyably ragged treatment of a song which has had some ropey version by everyone from buskers, drunks at weddings to superstar sessions.
Are they in harmony, a natural pairing? Of course not.
But here they are, two aging warriors on an old warhorse.
For much more on Bob Dylan at Elsewhere start here.
For more oddities, one-offs or songs with an interesting backstory check the massive back-catalogue at From the Vaults.
.