Graham Reid | | 1 min read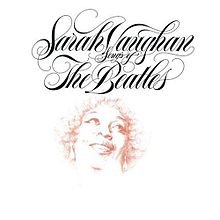 Because we so often think of music as existing in distinct and different periods -- the Swing Era, Fifties rock'n'roll, the Beatles period etc -- we tend to forget just how much overlap there was.
Punk, disco and Gary Glitter all co-existed . . . and people like Frank Sinatra and Bing Crosby were around long enough to sing songs by the Beatles.
And so was Sarah Vaughan who, in 1977, recorded 13 Beatles songs on this album . . . and the choice of material was interesting. She didn't always default to the obvious ballads but tried her hand at Get Back, You Never Give Me Your Money, Come Together, Hey Jude and -- most improbably -- Lennon's I Want You.
The album didn't come out until '81 and by then the disco groove evident on many of the songs seemed a little passe.
Because she was the great Sarah Vaughan she commanded the cream of session players at the time and the album includes guitarists Lee Ritenour and Dean Parks, drummer Jeff Porcaro and keyboard player David Paich (both soon to found Toto), percussionst Bobbye Hall, and Toots Thielmans on harmonica.
There have been some truly awful versions of some of the ballads here (Here There and Everywhere, Something, Blackbird, Yesterday etc) but Vaughan -- mostly -- manages to rein in any over-emoting tendencies.
So Beatles fans who might at look at this album with some trepidation can be reassured it is nowhere near as bad as it might have been in other hands, and while Sassy fans might not rate it alongside her jazz-improv best it is still a pretty damn decent collection (if a little bogged down by the arrangements in places, and the disco influence).
.
For more oddities, one-offs or songs with an interesting backstory check the massive back-catalogue at From the Vaults.