Graham Reid | | 3 min read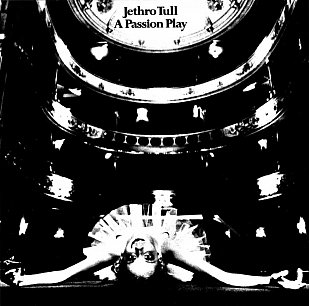 No one -- not even the members of Jethro Tull it seems -- can fully explain why this oddball spoken-word piece should have appeared in the middle of the album A Passion Play. The best Tull mainman Ian Anderson can come up with is because the rest of the album was so lyrically, emotionally and musically dense -- something about someone dying and going through stages in the afterlife -- is that it needed a bit of levity somewhere.
So this quirky and ever-so English piece, written and read by bassist Jeffrey Hammond-Hammond with assistance from keyboard player John Evans and frontman Anderson, found its way onto a Tull album which was roundly derided in Britain (although it did well in the US).
A Passion Play had a difficult birth.
After riding high with their enormously successful previous album Thick As a Brick -- which Anderson insists was in part a parody of the increasing pretentiousness of prog-rock -- they were facing an 83 percent tax rate back in Britain and so, on the advice of accountants, decided to record abroad.
They chose the famous Chateau d'Herouville near Paris which Elton John had previously used (for the Honky Chateau album, thus giving the place its nickname) and where Pink Floyd had recorded Obscured by Clouds. Cat Stevens was just polishing off Catch Bull at Four there when Tull made their decision.
However it was a disaster: the equipment was in poor condition or not working at all; they all had to sleep in a dorm; the pool was full of blackfly and wasn't cleaned during their tenure; everyone got food poisoning after meals prepared by a "big hairy woman with a moustache and a beard" according to guitarist Martin Barre . . .
The music wasn't really coming either so those sessions were abandoned and back in Britain, Anderson -- who had seriously added saxophone to his repertoire alongside flute -- conjured up the single 45-minute piece which is a meditation on how we might face choices in the afterlife. Or something like that.
When the album was finished it was decided to play it in its entirety (their only two shows in the UK in '73) and . . . the critics damned it for its complexity, impenetrable nature and the sheer boredom factor it induced.
In an especially excoriating piece Melody Maker's Chris Welch said he felt like Solomon in the Bible wanting to cry out "Enough!". His extended review appeared under the heading Crime of Passion.
After the review appeared things became even more curious: the band's manager passed word to Melody Maker that Tull were so wounded they were quitting. The Melody Maker headline was, Jethro Retire Hurt.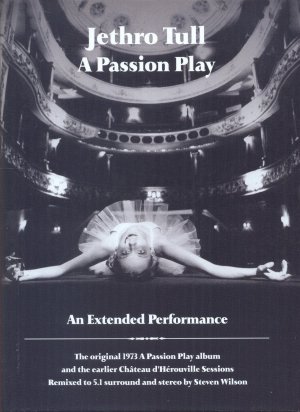 This was news to Anderson but the manager's ploy was a game in which Anderson would do a major interview with the paper. It was messiness all round.
Even today the Tull members don't much rate A Passion Play. Martin Barre considers it "in the bottom third of Jethro Tull albums" and Anderson in 2012 said "there are a bunch of whackos out there who say [it] is their all-time favourite album. But they of course should remain in the establishment for the criminally insane, in which they probably reside".
Given the low regard in which it is held, it is a surpise therefore to find A Passion Play and the Chateau d'Herounville Sessions remastered and remixed by Steve Wilson.
They are presented in a beautiful four-disc set, the album and sessions on a disc each, an audio/video DVD of Passion Play in 5.1 Surround sound and a DVD of the Chateau sessions in 5.1.
The collection -- in a hardcover with an extensive booklet reproduces Welch's review (for the reissue the writer and Anderson comment on it and both are generous towards each other), and the whole story is laid out. It makes for fascinating reading if not always essential listening.
Wilson explains his remixing decisions (stripping out later overdubs etc from the Chateau sessions, removing a few of the sax parts from Passion Play and reinserting a section thought lost etc) and Anderson is very witty about the whole affair.
Hammond-Hammond is hilarious about the food at the chateau: "Repetitive soup injury made working a strain" he says while noting "Shateau d'Herouville may have been a more appropriate title".
The band referred to the sessions as the Chateau d'Isaster tapes, although the version here (some parts of which have appeared previously but never this much in one place) suggests the never-released album might not have been as bad as it seemed at the time.
Oh, and of as much interest is the story of the ballerina who posed for the original cover.
Jane Colthorpe went on to great things: after the photo shoot she joined The Love Machine dance group who regularly appeared on The Benny Hill Show and then went on to Hot Gossip who were regulars on The Kenny Everett Show. She danced on the video for the Village People's Can't Stop the Music and Monty Python's The Meaning of Life.
Tull to Python? Given the farcical and funny story behind A Passion Play that almost seems logical.
Elsewhere has an extensive 2014 interview with Ian Anderson here.
For more one-off or unusual songs with an interesting backstory see From the Vaults.