Graham Reid | | 1 min read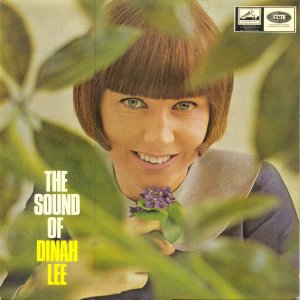 Answer songs or cash-ins were very common in the late Fifties and early Sixties (after success of The Twist it was time for Let's Twist Again etc) and the great and gutsy New Zealand singer Dinah Lee recorded this song -- penned and arranged by Mike Perjanick -- to keep the momentum going after her huge success with the single Do The Blue Beat in '64.
That song had followed her excellent Don't You Know Yockomo and Reet Petite (the flipside of that latter was a Beatlemania tie-in which you can hear here) but it was the one that took her high on the Australian charts. It was also released as a B-side to her single You Don't Talk About Love in the US but neither song did anything, depite her appearing on the television pop show Shindig.
He Can't Do the Blue Beat also appeared on her second album The Sound of Dinah Lee and the tracklisting showed not only what a versatile singer she could be (which was perhaps the point), but also the problem her record company and management had in finding the right material for her.
She covered familiar belters like Twist and Shout, and the Ray Charles song Shout which was in Lulu's repertoire, but then there was the gimmicky He Can't Do The Blue Beat alongside the jazz-blues of Long Way from St Louis, the Lennon-McCartney ballad It's For You which had been sung by Cilla Black and some ordinary pop material (What Kind of Love of This which didn't suit her upbeat style, better represented by the more rocking What Did He Say and Buddy Holly's Oh Boy).
This was an interesting period for pop because the British Invasion of '64 had suddenly changed the co-ordinates . . . but if the artists wanted to follow sometimes their management was more conservative.
Dinah Lee -- like Cilla, Lulu, Tom Jones and others in the UK, and Mr Lee Grant and others on home turf -- steered an uneven course between the pop-rock of their peers and the old-school "all round family entertainer" style of the earlier Sixties.
For more one-off or unusual songs with an interesting backstory see From the Vaults.