Graham Reid | | 1 min read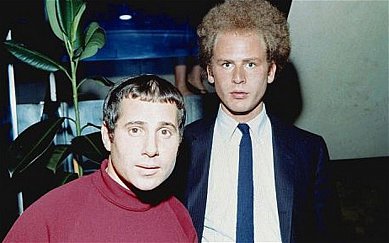 When Simon and Garfunkel released their Bridge Over Troubled Waters album in 1970, many critics read the song The Boxer as an oblique attack on Bob Dylan whose career at the time was in limbo and he seemed to be abdicating music's frontline.
The verse which was telling was: "In the clearing stands a boxer and a fighter by his trade, and he carries a reminder of every glove that laid him down or cut him, until he cries out in his pain, 'I am leaving, I am leaving' but the fighter still remains . . ."
This alludes to Dylan's vengeful streak and also to him vacillating in his career. Was Dylan leaving music? He still remained. The kicker was the chorus afterwards, "Lie la lie, lie la lie . . ."
Paul Simon has dismissed the idea and Dylan covered The Boxer during the Self Portrait sessions, although his multi-tracked version is pretty awful . . . which may have been payback.
If Simon was taking a poke at Dylan, it wasn't without precedent. He'd done something similar four years previous on the Parsley, Sage, Rosemary and Thyme album with this song, A Simple Desultory Philippic, the title alone redolent of Dylan's wordy ones (Subterranean Homesick Blues etc) and meaning a dreary, knocked-off piece.
The song not only mimics Dylan's electric style and wordiness, but Simon mentions Dylan by name and the "I lost my harmonica, Albert" is a reference to Dylan's bullish manager Albert Grossman. In places he sings and talks in Dylanesque style, and works in "everybody must get stoned".
No mistaking it on this one.
And that Paul Simon seemed such a lovely, sensitive young man.
For more unusual songs, one-off or those with an interesting backstory see From the Vaults.