Graham Reid | | 1 min read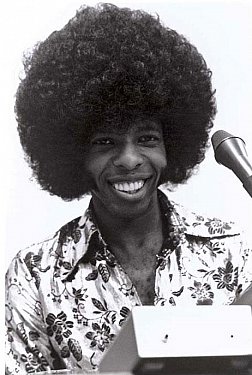 If we think of the great Sly Stone at all these days it's the celebratory guy leading the Family Stone at Woodstock and then great albums like Stand and There's A Riot Goin' On.
But flick back to his life before the public profile and in the early Sixties he was a respected producer in San Francisco, and mostly doing white artists like Bobby Freeman (C'mon and Swim), the Beau Brummels, The Great! Society (Grace Slick's pre-Jefferson Airplane band) and others.
This perhaps explains how he managed to so successfully blend black and white idioms (funk and soul, pop and rock) with his multi-racial, cross-gender band and take it to the world, often with uplifting messages which suited the times.
But in the studio -- despite having cracking musicians -- Sy was always the producer putting the parts together. So when he formed his own production company Stone Flower in '67 -- through which Family Stone releases appeared -- he also saw the chance of taking complete control in the studio, which was made easier when he discovered the Rhythm KIng drum machine which he could programme.
Like Prince two decades later, Sly became a one-man band/songwriter and producer who would invite in singers like Joe Hicks and the Little Sister trio (who had done backing vocals on Family Stone tracks), and sometimes guests like Blly Preston or Buddy Miles.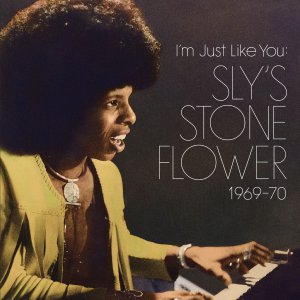 But mostly he did everything himself.
For these productions Sly kept things very simple, cutting right back to simple percussion and bass lines, and a swag of these unique and mostly unreleased recordings were recently collected onto the album I'm Just Like You; Sly's Stone Flower 1969-70 (light in the Attic/Southbound).
Sounding not a lot like the more famous Family Stone songs, these are often illuminatingly spare funk grooves . . . among them this slipperly little piece credited to Sly himself.
It's a fascinating collection and this is sly/Sly taster.
For more unusual music or songs with a back-story see From the Vaults.