Graham Reid | | 1 min read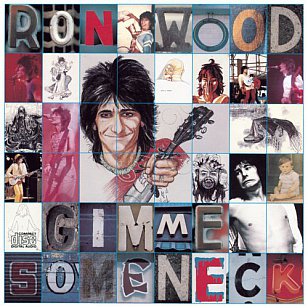 Back when he was "the salaried Stone", guitarist Ron Wood -- before he became Ronnie -- was regularly knocking out solo albums.
Of course he could call on some stellar assistance and across the three solo albums prior to Gimme Some Neck from which this track is drawn -- I've Got My Own Album To Do ('74), Now Look ('75) and Mahoney's Last Stand ('76) -- he has guests Mick Jagger, Keith Richards, David Bowie, George Harrison, Mick Taylor, Rod Stewart, Bobby Womack, Ian McLagan . . .
When you bought a Wood album you got a supersession.
And this song was written by Bob Dylan, whom Wood sounds uncannily like.
Apparently Dylan was hanging around Shangri La Studios in Malibu when Eric Clapton was recording his No Reason to Cry album in early '76. Wood was there too and when Dylan offered Clapton Seven Days, Wood jumped in and grabbed it.
Dylan released his own live version on the Bootleg Series Vol 1-3 much later on (Ronnie's is actually superior) and played it a number of times on his Rolling Thunder tour in '76.
When Wood put together his New Barbarians band (with Keith, Bobby Keys, Ian McLagan and others) to plug this album he played Seven Days as his signature song, and Gimme Some Neck is widely considered Wood's best solo album.
And as you may see from the clip . . . it remained with Ron for quite a while.
He also played it at Dylan's 30th anniversary concert at Madison Square Garden in '92 with a killer band of Steve Cropper (from Stax), GE Smith (from Dylan's touring band), Booker T Jones, bassist Howie Epstein (Petty's Heartbreakers), and drummers Anton Fig and Jim Keltner.
For other one-off songs with a bit of history or an interesting back-story see From the Vaults
.