Graham Reid | | 3 min read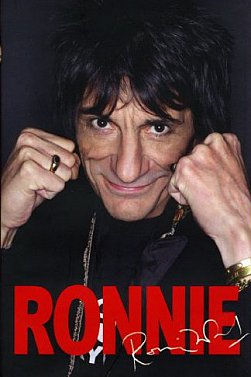 This too slight, slightly self-justifying, frequently honest and altogether typically disappointing rock autobiography has taken on much more meaning since its 2008 publication, especially with Ronnie's new solo album in late 2010.
In the closing chapters here especially he spends a lot of time proffesing his love for his wife Jo, how she rescued him, is his rock, how he is content as a family man with his art and so on . .
Her motto is, he writes, "Never show jealousy, don't nag about alcohol and always have sex".
Ronnie adds: "Believe me I know how lucky I am".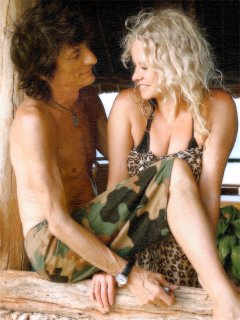 And within months of publication he was off on another alcohol and drugs bender, this time leaving the long-suffering Jo (right) for the 18-year old "model" Ivana whom he met in a club. Jo filed for divorce in late '08, a year later there was "a domestic incident" between Ronnie and Ivana and they went their separate ways.
All of which makes the solo album I Feel Like Playing by this terrific musician (the Faces/the Rolling Stones/fascinating side projects) all the more interesting because it almost sounds like an open letter of apology to Jo in many places.
It kicks off with Why You Wanna Go And Do A Thing Like That For ("just when everything was going so well . . . taking me from Heaven straight to Hell") follows it up with the reggae groove of Sweetness is My Weakness, then there is Lucky Man ("a halo turns into a noose"), Thing About You . . .
You could do some close textual analysis on the album . . . rather more than you might want to do with the autobiography which rambles when you wished it were more focused.
But it certainly not without redeeming features. He is very funny and candid about the world he occupies: So let's try to get this right; he stole his girlfriend Krissie from Eric Clapton who stole Patti Boyd from George Harrison and then Ronnie took up with Patti and George went off with Krissie whom Ronnie had taken from Eric . . . and he and Eric and George all remained friends, and there was Barbra Streisand in there somewhere? The chronology is slightly blurry, but you get the picture.
Jeez, by the time Margaret Trudeau -- wife of the Canadian prime minister and a Stones groupie by any other name -- notoriously turned up in the Seventies she almost seems like the norm.
As with all such books -- the Beatles Anthology, Bill Wyman's excellent and factually precise autobiography, Keith Richards more recent Life which draws on Ronnie's book in place -- it is their early years which are of most interest.
Wood and his brothers were the first land-born members of this family of London water-gypsies and heroic boozers (the guy who bought their house discovered 1700 Guinness bottle in the backyard, Ronnie admits to 100 of them) and he worked his way through various bands, had friendships with various Stones, Beatles and Small Faces et al as you did in those days -- and became one of the Faces alongside Rod Stewart.
But his destiny was always to be a Rolling Stone and he -- as Richards did in his book -- speaks of their "ancient form of weaving": ie. intricate and interlocking guitar work which is both studied and intuitive.
He offers an insiders view of the closed world of the Rolling Stones touring machine -- their backstage rooms, soundchecks, Charlie Watts' neatness and so on -- and admits to having about 40 guitars in storage in both Europe and the States in preperation for any tour. He and Jo carry about 19 suitcases, Charlie is neatness personified and folds his silk socks and places them in orderly rows in hotel drawers.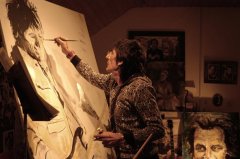 This is a disappointing autobiography inasmuch as it is what we expect now from rock stars of his ilk: busy people briefly then with little else to do but take three month crusies in the Caribbean in their downtime and dictating ideas and reminiscences into a tape recorder for posterity and further prosperity.
But Ronnie is interesting about his art which has been a highly successful parallel career -- and got him out of a bankruptcy hole when he made some silly investment in an exclusive club and was left holding the lease.
Bill Wyman was the smart Stone: he scrupulously kept a diary (to the point of itemising every woman/girl he ever had) so had good raw material, and cut the story off at exactly the right point, just as they became a rock band.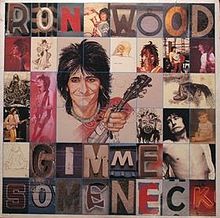 Ronnie Wood's albums have been most often underrated -- he has that Dylan croak which elevated Dylan's Seven Days into an art on his '79 album Gimme Some Neck -- and I Feel Like Playing (autobiographical, apologetic or not) is pretty damn fine.
And -- when aligned to this loose autobiography -- further proof that musicians best work is done in music, not in print.
Interested in more like this? Then have a look here.