Graham Reid | | 1 min read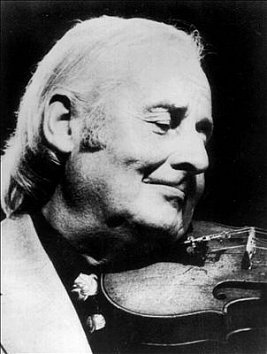 If the recent reissue of Led Zeppelin albums proved something less than interesting, let alone exciting, in the "bonus tracks' department, the same couldn't be said for the Pink Floyd reissue of a few years ago.
Without going the whole Pete Townshend into demos and second thoughts, the previously unreleased tracks on many of the Floyd discs were interesting for being expansive live versions or different studio takes and actually worth hearing.
The final track on the bonus disc which came with the remastered Wish You Were Here -- the album about past member Syd Barrett -- was the title track with a very unusual and unexpected guest: jazz violinist Stephane Grappelli.
At the time Grappelli -- who died in '97 -- was 66.
Grappelli and the great Yehudi Menuhin (also a violinist) were recording in a studio downstairs at Abbey Road and the band thought, according to Nick mason's Inside Out memoir, that it might be an idea to ask them to contribute to the song because it was essentially acoustic.
"Both were pleased to be asked," wrote Mason, "and Stephane volunteered to take up the challenge. Yehudi preferred to stand listening to Stephane's sinuous jazz violin."
Mason admits the idea was just an experiment and so they simply recorded over the multi-track when it was obvious that it hadn't worked out.
Or so he thought.
The tape with Grappelli was more recently found in the archives and so they included it on the bonus disc.
We let you decide whether it should have made, as they say, "the final cut".
For more on-offs or songs with an interesting back-story see From the Vaults.
There is a whole swag of PInk Floyd stuff at Elsewhere starting here including interviews, CD/DVD and book reviews, and another interesting track lifted from the reissues.