Graham Reid | | 1 min read
When Cosimo Matassa died in September 2014 there were lengthy obituaries for a man whom many may never have been aware of.
But as a record producer he defined the sound of his hometown New Orleans on recordings from the Forties onward and was inducted into the Rock And Roll Hall of Fame in 2012.
He probably could have got in on just two songs alone, Fats Domino's The Fat Man and Little Richard's Tutti Frutti.
Or maybe the two could be Dave Bartholomew's The Monkey Speaks His Mind and Aaron Neville's Tell It Like It Is.
Or perhaps Earl King's Trick Bag and Robert Parker's Barefootin'.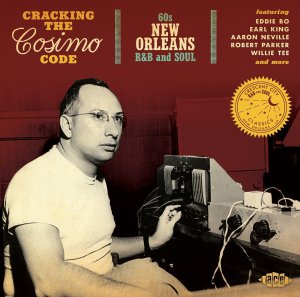 These hits and many, many more came out of his tiny studios and appeared on numerous labels, and the songs were written by the likes of Mac Rebbenack aka Dr John, Allen Toussaint, Harold Battiste, Eddie Bo . . .
Matassa recorded so many songs for so many people that it has become a project to crack the "Cosimo Code", the attribution of his code numbers on the old 45s.
A collection Cracking the Cosimo Code (Ace through Border) brings together 24 songs he recorded in the Sixties and is working in conjunction with the Cosimo Code website. (The Bartholomew Monkey version is a re-recording of his original)
And that's where we lifted this classic New Orleans sound from.
For the full tracklisting of this album look here.
S'all funky y'all.