Graham Reid | | 1 min read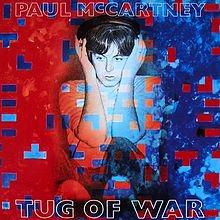 The reissue of Paul McCartney albums continued recently with expanded editions of his largely unloved albums from the early Eighties, Tug of War ('82) and Pipes of Peace ('83).
At the time they sprung hits and radio songs -- Take It Away, Ebony and Ivory with Stevie Wonder off the former, Say Say Say with Michael Jackson on the latter -- but attention on Tug of War also turned to Here Today, his lament for John Lennon on McCartney's first album since his murder.
His duet with Wonder on Ebony and Ivory is a little corny in sentiment, but this co-write with Stevie in solid funky mode was a real cracker, and the remastering allows it to leap out of the speakers even more.
One of the questions we ask in our Famous Elsewhere Songwriter Questionnaire is "The one songwriter you will always listen to, even if they disappointed you previously, is?"
Round this way there are a number of names on the list, one of them being Paul McCartney because even when he was turning in albums that were professional but unexciting there would always be at least three songs where his melodic or lyrical gifts would come through.
Tug of War was one of those albums . . . and the recent double CD reissue doesn't exactly throw out any gems in demos although the New Orleans piano boogie Stop, You Don't Know Where She Came From is kinda fun. The piano demo of the lovely Wanderlust starts off sounding like a Nick Cave ballad too . . . until he enters.
For more one-off, oddities or songs with an interesting backstory see From the Vaults.