Graham Reid | | <1 min read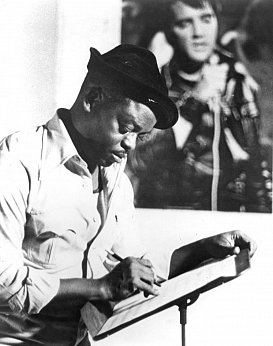 Otis Blackwell is best known as a songwriter, and he was one the most prominent and best in the rock'n'roll era.
Among his classics were Fever, All Shook Up, Don't Be Cruel, Great Balls of Fire, Return to Sender . . .
But he was, at the start of his career, a performer himself and the slinky Daddy Rollin' Stone was his single which influenced the likes of Leiber and Stoller.
In the next decade it was covered by a number of artists, not the least by Derek Martin who had a hit with it in Jamaica. It became popular among London's Mod scene and the Who then also covered it. As did Marc Bolan's pre-Rex band Johns Children.
It's bluesy, jazz-influenced sound would appear in other Blackwell compositions (notably Fever) but here was where the Otis Blackwell story started.
His debut single.
For more on Otis Blackwell at Elsewhere go here.
For more one-offs, oddities or songs with an interesting backstory see From the Vaults.