Graham Reid | | <1 min read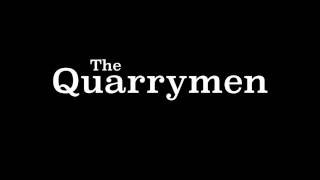 The QuarrymenSilver /Beatles at the time of this recording in Liverpool included bassist Stu Sutcliffe and (absent) drummer Pete Best.
And all of them -- Lennon, McCartney who most likely wrote this, and Harrison who was also absent for this tape recording – were all shy of being 20.
Best information on this says it was recorded in early 1960 and was part of about a 40 minute home recording tape of eight songs, "most of them untitled twelve-bar rambles of an especially unlistenable kind" according to Mark Lewisohn's definitive Tune In about the band's early years.
Make what you will of this, but here are the teenagers anxiously picking their way between the Shadows, post-skiffle rock instrumentals and with just a touch of the exotic Latin sound which McCartney liked.
(Around the same time they recorded Lennon's more categorically rock'n'roll number One After 909.).
The single-string solo undoubtable belongs to McCartney who had up to then been the guitarist but stepped back onto bass when Sutcliffe proved to be inadequate.
Single string solo?
Harrison would perfect that in days to come . . .
This is "the beatles" before they became "The Beatles" . . .
Everyone has to start somewhere.