Graham Reid | | 1 min read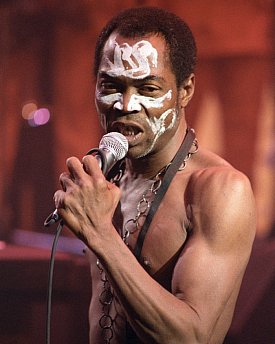 Not many years after this extraordinary piece came out – somehow on vinyl which is in our collection -- Elsewhere was in contact with what what called the Africa Information Centre in Wellington, New Zealand.
It was an organisation, the purpose of which was to disseminate black African culture and politics from across the continent into a (white Western) world largely deaf and blind to it.
And so – through albums and dubbed-off cassettes – we we found our way into deep Afrobeat, juju jive, obscure West Africa bands and stuff from the Forties and Fifties.
Jeez, that was deep curve into politics, colonialism, Yoruba imagery and sometimes strange musical madness.
These days – four or so decades on – Afrobeat of the Fela kind is like a disconnected touchstone for musicians from everywhere and wherever as it has just become a groove to ride and play out some kind for dance party before everyone goes home to safety and comfort and the band packs down.
But when the great and problematic Fela – freedom fighter and a political firebrand from Nigeria who hated homosexuals and died of Aids – recorded this there was an exciting musical and lyrical truth at its heart which he believed, and swept others up in his exciting wake.
Now Afrobeat is just another genre so its hard to hear this as it once was: an extraordinary groove which was somewhere between James Brown, soul-funk, jazz improv and political manifesto.
This is the template, all those other Afrobeat/Fela-genuflection bands are mere copyist. In our opinion.
This – like much early reggae – was revolutionary and rebel music, not just a dancefloor filler.
Let's go back to Afrobeat's origins for 10 exciting minutes.
Fela's The Black President; The Best Best of Fela Kuti has long been an Essential Elsewhere album. There more on Afrobeat of all persuasions at Elsewhere starting here.
For more oddities, one-offs or songs with an interesting backstorycheck the massive back-catalogue at From the Vaults.