Graham Reid | | <1 min read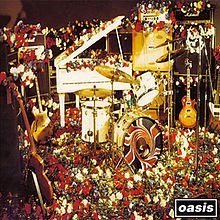 In their heyday, Oasis didn't just borrow from the Beatles, a Coke ad ("I'd like to teach the world to sing/buy the world a Coke") and glam but they would cover the Stones' Sympathy for the Devil and understood their cigarettes'n'alcohol audience's taste for a good noisy night out.
Hence this cover of Slade's jukebox and live classic Cum Feel the Noize from the Seventies which had also enjoyed a revival when US glam rockers Quiet Riot covered it in the Eighties.
Oasis -- who were on top of a considerable run of success with their own singles by the mid-Nineties didn't bother to make much of it, they just included it as a track on the single of Don't Look Back in Anger which was off their blockbusting What's The Story Morning Glory album.
Is their version any good?
It's Slade's Cum Feel the Noize.
You'd have to be very bad to screw it up.
For more oddities, one-offs or songs with an interesting backstory check the massive back-catalogue at From the Vaults.