Graham Reid | | 1 min read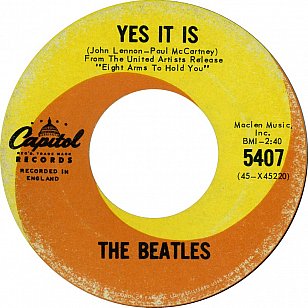 When the Beatles came together to record their innovative Ticket to Ride single (check the huge bass, McCartney was really getting on top of his game) they needed a b-side.
Lennon's Yes It Is was but a working drawing at the time, and not that far from This Boy in its melodic construction.
But Harrison was experimenting with a tone pedal (which he used on I Need You on the Help! soundtrack where Ticket to Ride also appeared) and Lennon was still feeling his way into it.
As these demos show.
But as Mark Lewisohn noted in his overview of the Beatles' songs, on this one "Lennon was often abruptly unfeeling with women . . . [however] his most yearningly romantic song Yes It Is is positively 19thC in its haunting feverishness, its Poe-like invocation of the colour scarlet, and its hint that that the lost lover is dead".
Lennon later considered it a failed rewrite of This Boy.
This Boy, Nov '63. B-side to I Want to Hold Your Hand
But as he so often was about his own music, he was wrong.
It is lovely and dark song in its final edition . . . but also quite moving in these various and many demos.
Get to that final version here and in that middle section – as with This Boy – you can hear a voice powered into projection by all those nights in Hamburg and Liverpool.
And here we go . . .
Yes It Is, take one
then . . .
Yes It Is, take two
and then . . .
Yes It Is, take eight
and getting close . . .
Yes It Is, take nine
nearly there . . .
Yes It Is, take 14
and
Yes It is, what you heard