Graham Reid | | <1 min read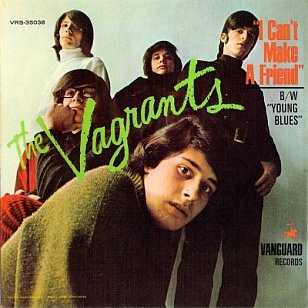 There are any number of bands called the Vagrants, but there is only one Vagrants and it was this garage-band out of Long Island who appeared on the original Nuggets compilation with their version of Otis Redding's Respect.
Those few who heard their quite remarkable version loved it, but it was swamped when Aretha's seminal version was released at the same time.
This second single has some elements of Detroit soul about it, but it is propelled by the brooding vocals of Peter Sabatino, a touch of Paul Revere, the organ of the song's co-writer Larry Storch and the guitar of Larry Weinstein (later to become better known as Leslie West who founded hard rockers Mountain).
They were apparently a thrilling live band but after two failed singles for Vanguard they broke up in '68.
The Ramones counted themselves big fans of these Vagrants. That figures.
For more oddities, one-offs or songs with an interesting backstory check the massive back-catalogue atFrom the Vaults.