Graham Reid | | 1 min read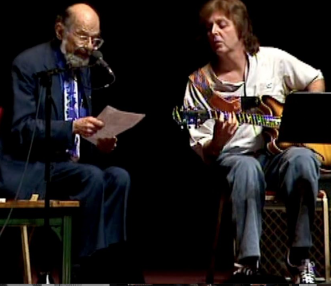 Here's an unlikely supergroup: poet
Allen Ginsberg
with
Paul McCartney
and
Lenny Kaye
(of the Patti Smith Group and
Nuggets
fame) and others.
Now they may not have all been in the same room for this seven minute-plus piece in which Ginsberg nailed down the "moral majority", Christian conservatives, right wing types all persuasions as well as those on the Left.
"I started it," Ginsberg told Harvey Kubernik of The Los Angeles Times in 1996, "because [of] all that inflated bull about the family values, the 'contract with America,' Newt Gingrich and all the loudmouth stuff on talk radio, and Rush Limbaugh and all those other guys. It seemed obnoxious and stupid and kind of sub-contradictory, so I figured I'd write a poem to knock it out of the ring."
The piece has a slightly convoluted gestation: McCartney accompanies Ginsberg at a Royal Albert Hall reading (with poet Ann Waldman also on the bill) and they were delighted with the result.
McCartney said if Ginsberg wanted to record it to let him know and subsequently it was recorded and produced by Lenny Kaye who played bass with guitarists Marc Ribot and Dave Mansfield.
Then McCartney added drums, guitar and organ (Ginsberg said Macca was trying to recapture the sound of Al Kooper on early Dylan records) then Philip Glass put on some piano.
There was an edit for radio by Hal Wilner but this here is the "explicit" version.
And the video made by Gus Van Sant got it onto MTV.
Ginsberg was 70 at the time, about four-plus decades older than most MTV artists.
So quite an implosion of diverse talents but one of the final hurrahs for Allen Ginsberg.
He died the following year.
.
For more one-offs, oddities or songs with an interesting backstory see From the Vaults.