Graham Reid | | 1 min read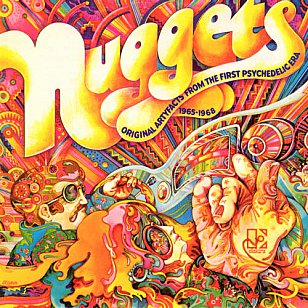 In a year which tripped over itself with anniversaries (the Stones' half century, 45 years since the Velvets' debut and 35 for the Sex Pistols' Bollocks), most of the inevitable reissues played the nostalgia card. But one stands out as different.
Forty years ago Lenny Kaye -- later guitarist in Patti Smith's band – compiled the double-vinyl album Nuggets; Original Artyfacts from the First Psychedelic Era 1965-1968.
In a garishly colourful cover (which bore little relationship to the urgent sounds within), Kaye collected 27 songs by American garagebands and anthologised a history so recent that some of the group's members still hadn't reached their late 20s.
These nagging, raw songs (only three breaking the three-minute mark) were called "punk rock" at the time, but that peculiarly American term came to mean something else just five years later when the Sex Pistols gatecrashed the party. What Kaye collated was the American response to British rhythm and blues of the 60s, suburban bands inspired by the Stones, Animals, Pretty Things and others beyond the mainstream pop of the Beatles, Dave Clark Five and Herman's Hermits. The bad boys, in other words.
Kaye unearthed a rich vein of music largely ignored by American and British radio but in this far-flung corner you could not only hear them (thanks to Radio Hauraki) but actually buy the singles and albums.
This ragged mid-Sixties rock bristles with generational frustration and the white-heat of adolescent sexuality. ("Hey girl, I'm going to make you ... mine" is a common threat.) There's also the genuine belief that, like all those English bands, they could be the Next Big Thing. Some almost were, but most had a career as a long as their singles.
Nuggets underwent a number of expansions (the four CD box set worth tracking down, Volume II included Kiwi bands the Blue Stars, Smoke and La De Das), but the original Nuggets, now remastered and reissued, is the cornerstone.
Here are great songs like Electric Prunes' I Had Too Much to Dream Last Night and the Blues Magoos' version of Tobacco Road (seriously psychedelic in the middle), Dirty Water by the Standells, the soon-to-be-casualty Roky Erickson in Thirteen Floor Elevators singing his lungs out on You're Gonna Miss Me, the Knickerbocker's Lies, the Seeds' Pushin' Too Hard, Count Five's classic Psychotic Reaction . . .
Unpretentious pop-rock, rough round the edges, heavy on fuzzbox and great shout-aloud choruses.
In his new liner notes Kaye says, "It's the songs in the end that make Nuggets so memorable, the lightning strikes of brilliance that move a record past genre into the realm of classic."
These were singles by hormonal white boys (yep, all boys) discovering sex'n'drugs and rock'n'roll. They are songs of desperation and hope by those who saw their path out of suburbia – and the way to meet girls – was not by going to college but in four chords.
That's a universal truth, not nostalgia. No wonder this stuff still makes sense.
For other garageband and early psychedelic rock go here and here.