Graham Reid | | 1 min read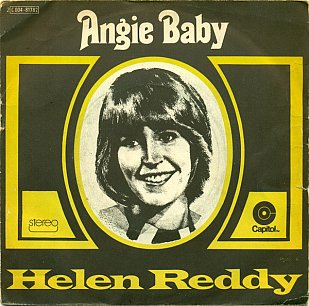 The damn fine Australian singer Helen Reddy could be convincingly MOR (I Don't Know How to Love Him from Jesus Christ Superstar), kinda country (Delta Dawn) and standing proud (I Am Woman).
But this song was just downright weird.
It's one part odd fantasy and one part escapism then it gets very strange when the neighbour boy comes around and . . .
Well, as the song says "it's so nice to be insane, no one asks you to explain . . ."
This is a very unusual trip indeed and – aside from the strong melody – you do wonder why it appealed to Reddy.
But it certainly did the business because she took it to the top of the charts in late '74.
As with Ode to Billie Joe by Bobbie Gentry and Richard Harris' MacArthur Park (written by Jimmy Webb), the public liked the idea of a song with mysterious elements and which needed unravelling.
Angie Baby was penned by a jobbing songwriter Alan O'Day who had begun in rock'n'roll then Beat-era bands and ended up lucratively writing songs for The Muppet Babies TV series in the late Eighties.
He'd had a few successes in the Seventies (Bobby Sherman, Cher) but it was this odd one which really made his name. Later in life he said he'd started with an idea from the Beatles' Lady Madonna then twisted it to make the central character more interesting, hence "insane".
Yep. It's a weird one.
.
For more oddities, one-offs or songs with an interesting backstory check the massive back-catalogue at From the Vaults.