Graham Reid | | <1 min read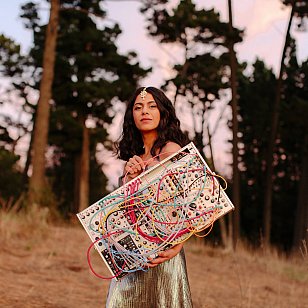 Locating her music somewhere between the meditative sound of Laraaji in the early Eighties, ambient world music, mood-establishing electronica and the Hindustani vocal tradition, Arushi Jain – originally from Delhi, studied computer science in the US then moved into synthesiser music – here offers an often weightless and seemingly effortless amalgam of all those styles.
She also studied at the Ravi Shankar Institute and some of these six pieces (most reaching past nine minutes) were composed for an evening performance in Rajasthan.
Here is an intricate layering of synths and voice in a discreet sound design which – like the aforementioned Laraaji – is relaxing, and is where discreet elements of Indian classical music are woven into synth atmospherics, which also bring to mind Japanese ambient music of the Eighties (with subcontinent content, of course).
The album cover tells its own story of the disparate elements, but here is an elegant, gravity-defying harmony of different worlds and cultures.
"Lilac sky" describes it very well.
.
You can hear and buy this album at bandcamp here