Graham Reid | | 2 min read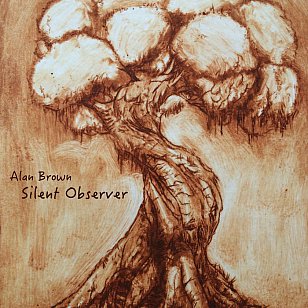 Despite what many amateurs in the New Age world may think -- and Brian Eno's Bloom app allows you to pretend you can do it -- creating respectable ambient music isn't quite as easy as it sounds.
We default to Eno again because he has some form in this area and he said this genre was about creating music which should be as ignorable as it was enjoyable. In other words it could be aural wallpaper, but if you turned attention to it then then the music should reward you.
Auckland jazz musician Alan Brown -- of Blue Train, Grand Central Band and guest spots with Nathan Haines and Cailtin Smith among others -- intuitively understands the ambient ethic because (as with the piano music of Bill Evans, Alan Broadbent and so many other jazz pianists) it's about the space and silence between notes as much as the black'n'whites hit.
Ambient music is very much the less-is-more idea.
And this wonderfully understated but intelligently-less album by Brown (always rewarding for the long resonance of the spare notes as much as the interpolation of Dylan Thomas' distant but litling voice in one key place) is by definition perfectly realised ambience.
Ambient music perhaps shouldn't attract attention to itself, but his exceptional Solace towards the end seems to allude to American folk songs embedded in our collective memory (is that the shining Shenandoah we glimpse at twilight?) and on Abandoned Fences a very distant synth drone might suggest a didgeridoo or a breeze across a desert plain, and the piano those widescreen spaces of The Outback.
This is music in which you can make your own Dreamtime.
Titles include Towards Home, Lengthening Shadows, Headland Glow, Night and a Cloudless Day, and Wakeful They Lie.
These titles are word pictures which append themselves to the sound images Brown evokes as he creates music akin to Eno's Music for Film recordings or the early work of La Monte Young on The Well Tuned Piano.
The 12-piece collection is the distillation of three hours of spontaneous improvisations on the Steinway in the Auckland Town Hall Concert Chamber (which Brown had been familiar with since childhood) and you can not only hear the space between the notes but the warm echo of the room.
With taste, Brown discreetly sometimes added some synth textures and samples.
Last week I sent Brown an e-mail. It read, "Just to say how much I have been enjoying your album in the past few days, such an intelligent respite in a crowded life".
If you have a crowded life (and really, who doesn't?) or just want to hear exceptional, minimal and melodic piano music which is as ignorable as it is enjoyable then this is an album you should have.
It is for those times when you need to find the space between those innumerable noisy notes that deafen our days.
Yes. Wonder-full.
(And frankly I just want to hear all three hours of that recording session, like you I need a long break from this crowded life in the 21st century)
Alan Brown's very gentle Silent Observer is available through bandcamp here as a stream or CD, and you can read more about Brown at his website here.
We also recommend his earlier but different album Between the Spaces which we wrote about here.
.
These Further Outwhere pages are dedicated to sounds beyond songs, ideas outside the obvious, possibiltiies far from pop. Start the challenge here.