Graham Reid | | <1 min read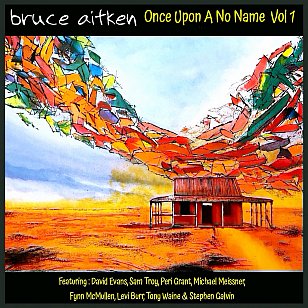 Elsewhere recently took a close listen to The Face Vol 1 by Sydney-based expat Kiwi percussionist Bruce Aitken (and some excellent friends) and were mightily impressed by the improvised diversity on display
We look forward to Vol 2 (if there is one, Aitken's a bit eccentric in that regard) but meantime Aitken has started a new series loosely based on the spaghetti westerns of Sergio Leone/Ennio Morricone/Clint Eastwood (aka the man with no name) and films with titles which start Once Upon a Time . . .
On the eight pieces here (all with the title Once Upon a No Name) are different players: among the cast are guitarist Sam Troy, violinist David Evans, harmonica player Peri Grant (it's a spaghetti western, there had to be a lonesome harmonica), bassist Tony Waine and Stephen Galvin . . .
These are eight different interpretations over Aitken's backing track and most evoke something of Morricone's off-kilter and idiosyncratic style.
The sheer diversity of instruments and approaches make this yet another fascinating installment in the award-winning Aitken's expanding catalogue.
(He also released Just Drums and Me last month alongside this, and has a new one out now already, Penny Wise which is some of his pop, rock and reggae material collected.)
.
You can hear and buy Bruce Aitken's music at bandcamp here