Graham Reid | | 9 min read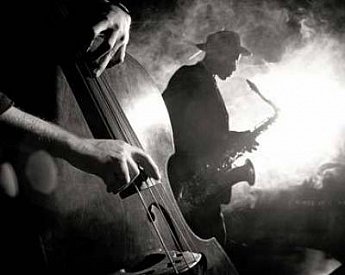 If rock is the culture which eats its young -- or at least allows Kurt Cobain to leave a suicide note which says "I need to be slightly numb in order to regain the enthusiasm I once had as a child" -- then jazz is the music which barely allows youth to exist at all.

The contract of jazz almost demands its young artists leap fully grown into the world not only as inheritors of a century-long lineage, but also bringing with them their own voice. Not for the jazz musician of the Nineties the luxury of working things out over a few albums or thrashing away, Ramones-like, in some dank club where enthusiasm is all and it doesn't matter what the thing sounds like.

Growing up in jazz is done on the bandstand or on record where critics, both professional and amateur, can cheerfully impale a new voice and budding career on two spikes: that of being too faithful in the re-creation of the music that went before ("what you wanna sound like Miles Davis?") or for being too unfaithful to the music which went before and taking off in new directions ("Hey, man, what you wanna diss Miles for?").

Play a straight bat to the music of your mentor of the late Fifties, say, and you are dismissed as a mere copyist: Wynton Marsalis is not as good as Miles, pianist Stephen Scott sounds too much like McCoy Tyner. . .

But take off from where you live in the Nineties into some collision of bebop and hip-hop and you are really in trouble. Look at what critics said about Miles Davis' last, unfinished album where he teamed up with Easy Mo Bee for Doo-Bop: "A perversion," wailed one American critic, adding that the "real music" was drowned under the "tyranny of the hip-hop beat."

As Mike Zwerin noted in the International Herald Tribune: "Change the vocabulary slightly and the same thing could have been written 50 years ago by defenders of another 'real thing'."

Being a young musician who is technically competent, respectful, innovative, steeped in tradition and in command of your own sound is a big ask, as the sportspeople would say.

Particularly if you are only 22. You've got to feel some sympathy, then, for American pianist Peter Delano, who is being touted by his record company, Verve, as one of their "most promising signings."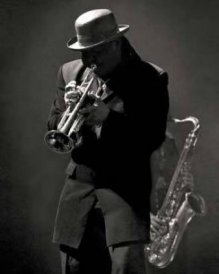 The kid is only 17.

Well, if Harry Connick Jr can turn a profit on an album he recorded when he was 11, why not someone who can at least hail his own cab home after the gig?

But if pressure from critics and the older jazz Establishment isn't bad enough, there are record companies with often artificial expectations of healthy sales figures and who are buoyed by the successful marketing of Wynton Marsalis in the Eighties.

Record companies can breathe hot and hard down the necks of those who don't turn a profit, and jazz, where careers take literally a lifetime, doesn't work from the same pop-for-profit impetus that accountants understand. Ask Joe Henderson, who only now, in his late 50s, is getting his due respect - and sales figures to match.

"I like the fact I didn't get a record deal right away," 29-year-old tenor saxophonist Javon Jackson told Downbeat two years ago, "because this way I was able to achieve a certain musicianship and maturity."

And that pressure to sell records is certainly out there concedes 24-year old pianist Stephen Scott, recently signed to the Verve label and, like teenager Delano, tipped to be part of the rejuvenation of that venerable label along with trumpeter Roy Hargrove (age 24) and bassist Christian McBride (22).

Nobody will confirm how much these young artists signed their contracts for, but Hargrove and trumpeter Wallace Roney (recently signed to Warner) have probably autographed the bottom line for around $US80,000 ($NZl35,000).

That's a lot of money in the jazz world and until recently was the kind of figure only top-line players could command.

It has brought some envious comments from older jazz figures, some particularly stung because they hear little original from the young musicians but plenty of repetition of their own youthful licks.

But that needs to be put in perspective, too.

You can't feel envious of young musicians who now have to sell upwards of 50,000 copies of their albums, at least, for the record companies to get a return on their investment. And very few jazz artists manage to do that -- although, of them all, Hargrove comes the closest of the new crop. The real exception is Warner act Joshua Redman, whose Wish album has sold almost l00,000, but Hargrove's previous albums, when he was signed to Novus, sold around 30,000 copies each. That's at the high end of typical.

The pressure is on to play up . . . and ship out.

"Yeah," says Scott optimistically, "but if you learn to deal with that whole history of jazz, it strengthens what you do and you're not so worried about trying to sell records.

"What you are trying to do is make some music. Critics and writers, like the rest of us, listen to those records by Joe Henderson or whoever, then they say that Roy might sound like Freddie Hubbard or I might sound like McCoy Tyner. But they don't wait to see what we are going to do with that. They don't realise there is a process to creation and it's not just about an immediate product."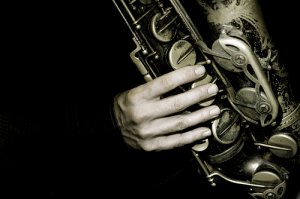 "And it all starts with emulation," says Hargrove, who admits he wants to sell records in big numbers.

Wynton Marsalis has sold almost half a million copies of Hothouse Flowers, and the trickle-down effect of that sort of success keeps the ball rolling: as a supporter of jazz education he has been responsible for more college programmes and competitions . . . and from these come more musicians, of higher calibre, so more record companies get interested, then theres a bidding war for young blades . . .

So it goes.

"I don't feel pressure to sell records," says trumpeter Wallace Roney. "If I did, I'd try to make music that sells. That's not how I see myself. I have to believe the label feels the same way."

And if Roney and others wanted to sell records, they would simply do what others before them have done: dilute their sound, mesh with a New Age attitude and sell six million copies as saxophonist Kenny G. has done.

(Kenny G. might be rich, but he's also the butt of some of the best jokes in jazz: Kenny G., Stalin and Hitler are all in a room and you've got a gun with only two bullets. What do you do? Shoot Kenny G. twice.)

The way to sell records in jazz can also be to go the exact opposite route, to remain credible, align yourself with the tradition and work from the ground up.

It's notable that Roney's latest album is a tribute to Miles Davis, on which he plays alongside members of Davis' Sixties band. It's the policy that Verve, with a past and an eye to the future, is pursuing.

The new Hargrove album has him alongside players such as Joe Henderson, Stanley Turrentine and Johnny Griffin, who are three decades and more older than him; pianist Scott has accompanied established artists Betty Carter and Benny Golson as well as playing on Henderson's Lush Life album.

The critics therefore may see more divisions between older and younger players than actually exist.

"Yeah, look over there," says Hargrove as he stands in the lobby of a New York theatre where the generations of jazz have gathered for a concert. "There's Christian McBride talking with Ray Brown," and gestures across to where the youthful bassist is chatting amiably with the veteran of Dizzy Gillespie, Count Basie and Duke Ellington bands.

Such cross-generational contacts -- and recording -- have always been the lifeblood of jazz. And it seems the record companies are aware of the need for long-term commitment to their young signings.

They are certainly saying as much.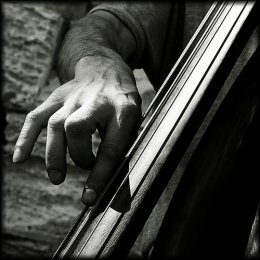 "You have to sign artists based on your faith in their future," says president of the Blue Note label Bruce Lundvall.

"You must feel confident that the artist will have the potential to exist beyond his current releases," George Butler, senior vice-president at Columbia, told Billboard magazine in April.

For the young musicians themselves, their part of the contract is clear. It might not overtly be to sell the records, but it is certainly to make the music.

"We're in a study period right now," says bassist McBride. "We're taking our time to find our own voices."

"I've been fortunate in having the opportunity to record with other people as well as under my own name," says Hargrove. "It's important to have that experience, like playing with Jackie McLean, who has been out there for a long time. It means when I come to make my own records I've been able to absorb all that information and the important thing about being a young musician is to have that kind of experience."

And if this current crop of under-30s has something useful going for it, it's that they are not alone out there. The list of young players coming from similar backgrounds and with similar goals is impressive -- quite a jazz renaissance, in fact.

There's pianist Cyrus Chestnut, whose debut album as a leader, Revelation, is exactly that; Hammond organist Joey De Francesco, who seems wise well beyond his 23 years when he plays with guitarist John McLaughlin's Free Spirits; tenor player Joshua Redman and drummer T.S. Monk (the sons of Dewey and Thelonious respectively); young altoist Christopher Hollyday, who at 24 has four albums behind him . . .

And if there's an emergent young super-group out there -- albeit one with a slight recording history and a profile that skims just above non-existent at the moment -- it's Black/Note, an LA-based group signed to Columbia.

Their pedigree, such as any can be for artists under 30, is impressive and the straight-ahead post-bop on their debut album suggests a band, and individuals, with unlimited potential.

Their leader is 27-year-old bassist Mark Shelby, who has studied with Charlie Haden and classical player Peter Rofe of the Los Angeles Philharmonic. As with the other members, he's a music graduate who has won creditable scholarships. Saxophonist James Malone (23) studied classical music and won the Shelly Manne Memorial Young Talent Award, drummer Willie Jones III (25) and 29-year-old pianist Ark Sano both finished in the finals of Thelonious Monk competitions on their respective instruments and between them can claim to have played alongside Cedar Walton, Red Holloway and Arturo Sandoval.

As with all these new young lions of jazz, they are making it by supporting each other and playing together.

"Even before Wynton, there were musicians trying to play this music," drummer Winard Harper of the Harper Brothers Band told Downbeat two years ago. "But there are not a lot of opportunities for guys coming out of school to have a job and be working on their craft. If there are more bands, there are more working situations for all of us to learn.

"So regardless of whether Roy Hargrove, say, hasn't had a chance to work with anybody, if he has his own band out there, he's giving four or five other guys an opportunity to be working and learning how to play."