Graham Reid | | 1 min read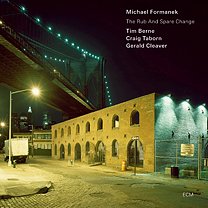 Although you would be unwise to say any particular album seems unusual on ECM -- this is a label which has had Jan Garbarek with the Hilliard Ensemble, the noisecore of Lask and the Art Ensemble of Chicago -- this one out of Downtown NYC is unexpected.
The composer here is bassist Michael Formanek who has been a mainstay of the Mingus Big Band and in altoist Tim Berne's more edgy Bloodcount. Berne himself reared up out the Downtown scene in the mid Eighties alongside such mavericks as John Zorn and guitarist David Torn -- with whom he and the pianist here Craig Taborn previously recorded for ECM.
So this is jazz which sees the contract as open to wide interpretation -- that said though this is mostly post-Monk/Mingus much as you might expect it to be interpreted post-rock and on ECM where the artists place great store on tonal values.
The enticing eight minute-plus opener Twenty Three Neo - which initially has Berne playing a long line of almost North African intonation -- changes direction part-way through into minimalist, repeated piano figures over which Berne plays a driving but almost drone-like passage. It is quite something.
The title track is a jittery affair over a stop-start rhythm section with Berne matching them all the way in short probing notes and edgy phrases as the swirling undercurrent set up by Taborn, Formanek and Cleaver becomes a roiling beast which urges him on -- before the whole thing turns again and becomes a more free exploration.
The ballad Jack's Last Call is a standout: it starts with confident piano chords then retreats within a 30 seconds before rebuilding itself in angular runs as drummer Cleaver drives from the bottom. It is a tour de forcefulness thereafter, although amidst the rippling lines the ballad remains intact at the heart of the playing.
This is an exciting, innovative album which uses many of the stylistic threads of jazz which preceded it to create something of its own.