Graham Reid | | 4 min read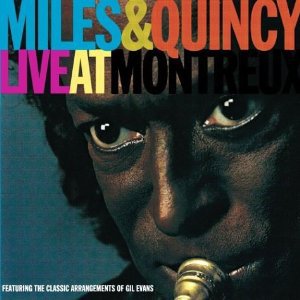 It was emblematic of the soul rebel career of Miles Davis that in his final years he was painting as much as he was playing, had a cameo spot in a movie (Dingo) playing a pre-electric period jazz trumpeter, exchanging tapes with Prince, recorded with rapper Eazy Mo Bee and – most surprising of all turned up at the Montreux Jazz Festival in 1991 to play some classic tunes from his early years.

Davis always said he never looked back - but he did, of course. Increasingly he spoke of his late Eighties collaborations with Marcus Miller as being like those he did with Gil Evans the Fifties. And after Evans' death in '88 Gil was much on Miles' mind.

Maybe that's why he chose the 25th Montreux Festival to revisit those tunes, as a nod to Gil from a man who knew his time was coming close too.

Certainly old friend Quincy Jones -- who had never shared a stage with Davis, surprisingly – was the prompt and when Jones got the Evans charts, a great band together and made things easy for Davis it was ll on.

Except for Davis who, typically, didn't bother which such formalities as rehearsals (his dep was Wallace Roney) and showed for just one run through.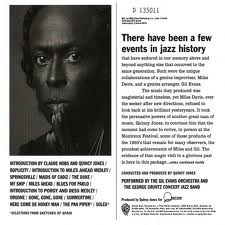 The Davis-Evans music was great music - it was fortysomething years ago and is now. That's a given . . . the other thing we bring to this album is the knowledge that these were among the last notes Davis blew. Ten weeks later he was dead.

So Live at Montreux comes with its own weight of meaning.

Too often it is easy bow to music because of who is making it, why it was made or peripheral matters such as the health of artist.

Live at Montreux transcends all that easily.

For the opener Davis and Jones reach way back to the Birth of the Cool days in the late Forties with a hesitant rendering of Boplicity. Davis is cautious, lets the orchestration carry him. takes his first solo slowly then steadily extends himself. By the end, and it's only about four minutes long, he has found himself. From here on it is mostly assured - if fragile -- Davis sitting within the rich, warm and supportive arrangements.

Very supportive, in fact.

Roney was at Davis' side ready to pick up the task if necessary. It seems he wasn't, although on Miles Ahead it is Roney who plays the solo, to be joined by Davis on only the last chorus.

Once too often Jones pulls a brash, brassy sound to the fore from the double-handling orchestra he has on call (the eight-piece Gil Evans Orchestra with Miles Evans, Gil's son on trumpet, and the massed George Gruntz Concert Band).

But the focus is on Davis all the way . . . as it should be.

And he seldom disappoints despite the occasional missed note which he always elevated to a stylistic device anyway.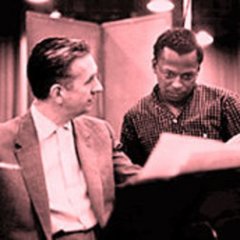 His first solo on Maids of Cadiz is muted and recalls the pointillistic treatment he offered in the past to Round Midnight, My Ship is delivered (deliberately) as if he has barely enough life in him to essay the lovely Gershwin/Weill ballad (his later solos have him in command) and Blues for Pablo at the midpoint is deliciously engrossing.

Together Davis and Jones move through the years in a Porgy and Bess acknowledgment.

Summertime finds Davis strutting coyly in the taster tempo before letting altoist Kenny Garrett pile on the pressure. The album bows out with two pieces from Sketches of Spain; a short poke around in The Pan Piper which at less than two minutes isn't illustrative of very much and, much better, a reading of the stately Solea where Davis engages in tightly coiled interplay with Garrett. It is here too however where you can hear the loss of power replaced by his idiosyncratic stylisations.

With a cast list which reads like a Who's Who of this music (Lew Soloff, George Adams, Jerry Bergonzi, Grady Tate) there is plenty to be appreciated other than Davis here. But this was -- and is – Davis' show.

Quincy Jones says that Davis sometimes smiled and even deliberately faced the audience, both rarities in the last couple of decades of his career. Jones says Davis enjoyed himself on these old tunes with which he'd made his name.

The event of Davis at Montreux imposes a convenient, if artificial and unintentional, symmetry on a career in modern music which was as tetchy, creative, unpredictable and revelatory as it was – that rarest of commodities, even in jazz – unique.