Graham Reid | | 1 min read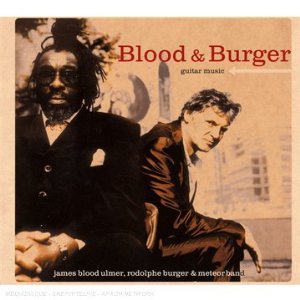 The great jazz, post-Hendrix and entirely Elsewhere guitarist James Blood Ulmer delivered exceptional albums of post-Ornette Coleman harmolodic music such as Tales of Captain Black and Are You Glad To Be In America on John Snyder's short-lived but creditable Artist House label.
But then he slowly evaporated from critical sight.
His albums on CBS in the Eighties were slightly lesser outings, but only in the comparison. Even now they can still sound uncomfortable and challenging.
However those who had acclaimed him early on -- as they did with politicised post jazz-rock Black Rock Coalition guitarists Vernon Reid and Jean-Paul Bourelly -- seemed to lose interest. Maybe Blood Ulmer was too tough a proposition without enough memorable tunes, maybe he just failed to deliver as the man who could have picked up the Hendrix banner?
Yet Blood was always out there -- even if sometimes the recent albums delivered diminishing returns.
This album (recorded in '02, first released to no particular interest in '08) is one you might have wished you'd heard at the time because it forces a reassessment.
Recorded live at a French festival with fellow-guitarist traveller Rodolphe Burger, bassist Madeo and drummer Arnaud Dieterien, at times -- as on the techno-edged trip-hop Long-Legged Fly which takes lines from Yeats and cries out for a remix -- it occupies a strange territory between U2 when they were innovative (around the Achtung Baby/Zooropa period) and that edgy rock-fusion of Ulmer's best days.
They even go back for a revisionist treatment of Are You Glad To Be In America (less angry, more brooding and reflective), and there is a wide-screen and initially unrecognisable version of the Stones old acoustic ballad Play With Fire . . . which actually/almost makes plenty of sense.
The vocalist here is mostly Frenchman Burger so you often wish for less of the French detachment (as on Play with Fire) and much more of Blood Ulmer's agonised and anguished yowl.
Yet on Huit Couche his droll, emotional detachment works perfectly against the backdrop of Blood Ulmer and band where the slow mood-groove throbs with sad weariness.
But the disturbingly industrial High Tech at the end shows you the mighty Blood is still in the game of guitar fragmentation.
Still out there, still a challenge.
Interested in this? Then have a go at this.